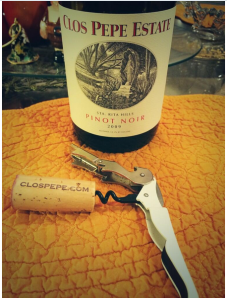 Nestled in the northeastern corner of the Central Coast's Sta Rita Hills AVA sits Clos Pepe Estate. Purchased in 1994 as a horse ranch by Steve and Cathy Pepe, Clos Pepe winemaker Wes Hagen began at the Estate full-time in 1994 as well. The estate was planted with Pinot Noir and Chardonnay from 1996 to 1998, and made the first commercially available vintage of Clos Pepe in 2000. I had the chance to "talk" to Wes Hagen during a Twitter Tasting, where a group of bloggers received samples of the Clos Pepe Pinot Noir 2009, tasted, and tweeted about it with Wes. A cerebral straight shooter, Wes had a lot to say about a lot of things!
"Sta Rita Hills has poor soil, wind, fog, cool temps, long hang time and passionate explorers of flavor" was one of Wes' first tweets during the tasting. That was soon followed by "And not to be topical or anything. Dirt Does NOT Lie, and this AVA is a testament to that." Of note is the Hashtag used during our tasting, #DirtDontLie. A hashtag, for the uninitiated, is a way to aggregate tweets (or status updates) by a subject. With all of us adding the same hashtag to each tweet about the 2009 Clos Pepe Pinot, you should able to pull together the entire virtual conversation, and follow along. The hashtag speaks volumes about Wes, and his thoughts on where the wine is made, the vineyard!
Speaking of the vineyard, The Concise World Atlas of Wine describes the poor soil of the Sta Rita Hills AVA as "a patchwork of sand, silt, and clay." The diurnal winds and fog keep the grapes cool at night, prolonging the growing season to help the grapes reach peak maturity, and ripeness. However, Sta Rita Hills is one of the coolest wine grape growing regions, lending itself to that bracing acidity.
I noticed Wes tweeting about decanting his Pinot Noir about an hour before the tasting began. When I asked about it, he said
I decant everything I drink 5 years and younger, whites pink and red. Decanting whites and then laying the decanter on ice is a new thing for me…and it's revelatory.
Oh, revelatory in a sentence. I feared I would need to break out my dictionary, as I do when tweet with Randall Grahm. I digress. Few Americans I know are patient enough to decant a Cabernet Sauvignon or Merlot, no less a normally approachable and easy to drink Pinot Noir. I tried the Clos Pepe 2009 Pinot Noir right after I pulled the cork, and was punched in the face with ripping acidity. I grabbed a decanter and gave it an hour of air.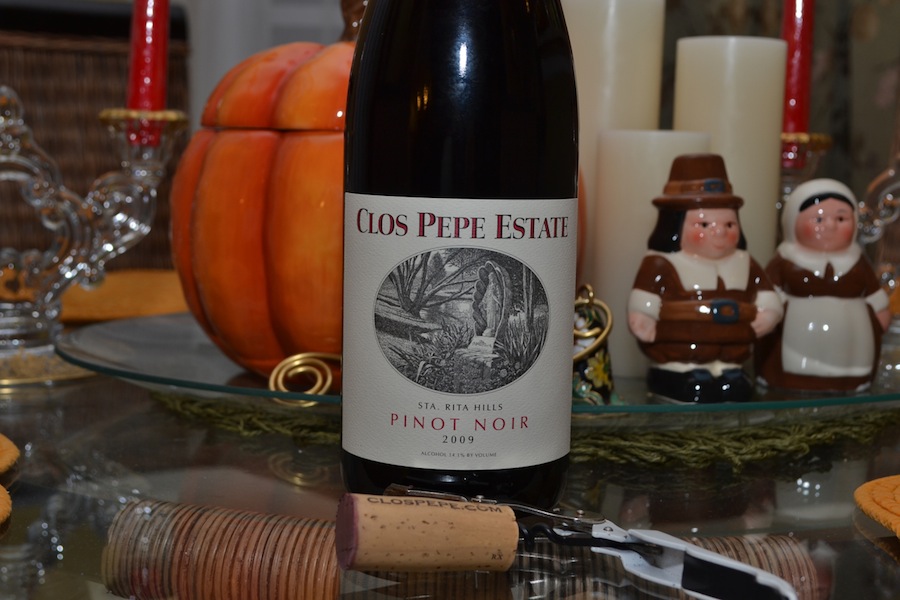 My first taste of the Clos Pepe 09 Pinot was strawberry, smoked bacon and the ripping acid I mentioned previously. Masculine on the palate, there is firm, assertive fruit and acidity. Think of it as a dapper, but manly James Bond. 007, in your glass. As the wine opened, flavors evolved into dark red berries, smoked bacon, great baking spices, with sea smoke on a long-lasting finish. This wine, which was four years from vintage when sampled, has the potential to age and develop nicely, in part because of the acidity. Experts like Parker/Galloni and Laube give this delicious red wine a drink window through 2020, though Wes himself feels you should enjoy your Clos Pepe 2009 Pinot Noir by 2016!
Speaking of drink windows, I recently came across a tasting note from March 2013 discussing Wes' 1999 vintage. The wine was a his first at Clos Pepe, a year before their commercial launch, and was unlabeled. Nearly 14 years after harvest, the reviewer said the wine was "holding up remarkable well, with primary fruit still in evidence." This speaks not only to Wes' wine making prowess, but also the quality of the grapes grown at the estate.
The Clos Pepe vineyard practices are sustainable, and quite straight forward: Take care of the vineyard, and the people working in it. They try to "Encourage a healthy, diverse vineyard environment by using sheep, chickens, owl boxes, raptor perches and policies that guarantee a healthy farm. Promote soil health by composting and organic fertilization, but only enough to make the vines able to support a small crop"
Likely written by Wes, Clos Pepe does "believe that organic practices that help improve our wine are worth implementing, but we do not believe in organic for organic's sake, nor do we practice Biodynamics, which we consider (mostly) the ravings of a charlatan, and voodoo fluff/marketing fodder."
I read somewhere that many of the grapes grown on the estate are sold to other wine makers, keeping only a fraction of what Clos Pepe grow. Only 900 cases of the 2009 Clos Pepe Pinot Noir were made. With a suggested retail price of $54, the 2009 vintage is likely sold out. The wine is mostly available online. The current Pinot Noir release, 2010, was given 93 points by Robert Parker/Antonio Galloni.
Joe Roberts of 1winedude asked Wes for the geeky productions details on the wine. Wes replied
Geeky production details: I didn't fuck up a perfect vintage. That's it. I'm a farmer.
Other BRIEF geeky production details include the Clos Pepe 2009 used all 4 Pinot Noir clones grown on the estate, 667, 115, Pommard 4, and 777. The wine aged 11 months in oak, very loose filtration, no racking or fining, picked at 23.2-24.7 brix at 3.26 to 3.38 pH final TA is 6.8 g/l, 14.1% ABV
We went on about where and when terroir exists and other cerebral, wine geekery. And just plain geekery, as I believe Wes mentioned if he wasn't making wine, he'd still be an English teacher. It was an awesome evening with a great wine lover, who happens to make great wine. You can see what Pamela, Melanie, and Dezel thought about the Clos Pepe #DirtDontLie Twitter tasting. Wes also has his own blog, definitely worth checking out!