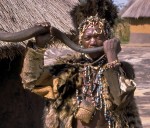 When I wrote about wines that were organic, sustainable or biodynamic, I made the mistake of mentioning Voodoo and Witchcraft. After my post was read by Elizabeth Candelario, Marketing Director for Demeter USA, I've come to see I'm only perpetuating the wrong image of biodyanmic grape growing. It's time to change that! Elizabeth took the time to write me a letter that puts the right focus on Biodynamic farming and grape growing. It helps point to not just the astronomical influences on the farming, but also the homeopathic influences.
Read with great interest (and watched too!) your coverage of Biodynamic in a recent post on your website.  I am a really big fan of Montinore so I appreciated your mention of them as well.  For the record, if you don't mind my making a few comments…

Vooddo!  Witchcraft!!  What the heck!!!  Your description of Biodynamic practices was terrific: no chemicals, view of the farm as a living organism, holistic natural approach, use of the preparations.  Thanks for that!  But I always have a hard time understanding how we can move from sound agronomy to adjectives like voodoo and witchcraft!

Anyway- if you are interested- check out our website where you will find lots of materials, and also the Demeter Farm Standard itself.  The important thing to remember is that the term BIODYNAMIC is held as a certification mark by Demeter in the commercial marketplace relative to agriculturally-based products and farms.  In order for a farm or product to refer to itself as BIODYNAMIC it must meet the Demeter Farm and Processing Standardsand be verified though certification.

In a nutshell then the term BIODYNAMIC = The Demeter Standards.   There is mention of astronomical influences as one consideration within an extensive farming system.  The preparations are also an important part- but think homeopathic remedies- and there is some science pointing to increased microbial activity in soils that have been treated with the preps- not to mention a lot of antidotal support.   There is no mention of spiritual forces per se, although many Biodynamic practitioners will share that as part of their own personal observation.   Most importantly of all- the Farm Standard is composed of all of the other practices you described.

And the Farm Standard is historically significant because it dates back to the beginning of the sustainable agriculture movement and captures key agronomic principles not comprehensively addressed within any other agriculture certification system in the world.  It seeks to create a farm system that is minimally dependant on imported materials, instead meeting its needs from the living dynamics of the farm itself.  It is the biodiversity of the farm, organized so that the waste of one part of the farm becomes the energy for another, that results in an increase in the farm's capacity for self-renewal and ultimately makes the farm sustainable.  Sections of the Farm Standard include soil fertility management, crop protection, greenhouse management, animal welfare, and the use of the preparations.  It's actually a beautiful document that would align with any sustainable farmer's understanding of good agriculture.

Anyway- hope you don't mind my long winded note.  Just trying very hard to get away from the more sensational things being written and spoken about Biodynamic agriculture as I feel it actually isn't accurate.  Sure do appreciate you and the work you are doing to educate wine drinkers.  Please do consider me a resource.

Warm Regards,

Elizabeth Candelario

Marketing Director, Demeter USA

Board Chair, Stellar Organic Certification Services
My response to this well written, and educational, email was:
Thank you so much for taking the time to write me. I appreciate it, sincerely. I would actually like to take your email and post it on my blog – as I think you covered some very interesting and important points.  I assure you that while my descriptors may have come across as derogatory, there were never intended to be.

During September 2009 I visited two biodynamic vineyards in CA. Both of them were very passionate about what they did, and how they were stewards of the land.  However, both of them used the terms Voodo and Witchcraft, tongue in cheek, when discussing some of the practices. I think it was their way of bridging the gap between their audiences ignorance and their heartfelt beliefs and practices of biodynamic farming.  I also think that they were able to leave a lasting impression when doing so.

While it may not be wholly accurate to use the term Voodoo when discussing Biodynamic preparation 500, it definitely made an impression on us. It was perhaps a bit outlandish, and inaccurate, of course, but it helped me remember what they do, and why they do it. I do agree, however, that we have a responsibility to help educate people accurately, and that is why I'd like to post your letter on my blog. I believe it'll help people searching for information become more educated in terms of biodynamic farming. I found the subject of biodynamic, as well as sustainable and organic farming quite interesting. However, the average attention span of visitors to our websites lately have declined. I therefore had to take a tremendous amount of information, cut it down, and hope I didn't leave out the good stuff.  My intention was always to go back, revisit each of the three classifications or methods of farming, and hopefully engage people on them individually. This may be a great way to do so.

Thank you again!
So, as you can see, I posted the letter. The question I have for you, is what questions do you have for me? Let me know your thoughts on Biodynamic farming, grape growing, and wines. How can I help you understand what's in your glass?