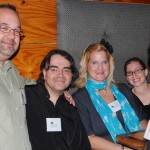 It seems like only yesterday that Chef Dolce Debbie & I were planning our first Food & Wine Tweetup. From that amazing event, we planned several successful followups, serving delicious meals, pairing them with fantastic wines, and having some of the most interesting friends at our table. All of this came to life because of the social networking tool Twitter, where Debbie and I "met", virtually, exchanged ideas, and created opportunities. However, my East Coast Florida friends quickly became jealous of our events being exclusively in Tampa. Twitter played a hand in solving that issue, introducing me to PR expert Jan Idelman at a Ft Lauderdale "Pizza Tweetup", and #Twineup was born.
One of Jan's clients is a downtown Ft Lauderdale hot spot with a 12 year history of serving great food, and pairing it with your choice of dozens of wines. When Jan and I met, we discussed some of the wine events and television segments I've done, and she saw a great opportunity to introduce new people to her client, Himmarshee Bar & Grille. We quickly planned our first Himmarshee Twineup for September 12th, and it was a tremendous success. Forty friends from twitter, as well as viewers of South Florida Today who saw me talking about the event on the show, joined us for an evening of food, wine, and networking with great people. People clamored for a repeat, and we couldn't let them down. We planned our second event, let everyone know about it, and before you could blink, October 17th was here and the fun started all over again.
Over forty people packed into Himmarshee Saturday night for the second event. Shortly after 8:30 we began the event and poured our first wine, Murphy-Goode The Fume 2008. This Sauvignon Blanc was chosen for it's light and crisp citrus flavors. Chef Chris created two dishes to pair with this wine, petite lump crab cakes with a pickled habanero tartar, and island spiced shrimp & yucca croquettes with a drunken mango salsa. The guests absolutely loved the first tasting, many of them ordering glasses of the wine throughout the night. Some even had it with their dinner after the event.
The second tasting was a Shiraz from Hope Estate in Hunter Valley, Australia. This 2005 Shiraz was fermented in 30% American oak, then aged in 60% French and 40% American. While I felt the palate was very jammy, with tons of blackberry and plum flavors, Rick Garcia, Mr Miamism and the King of Mojitos, was actually a bit overwhelmed by the wood on the finish. His wife, Ines, one of my first twitter friends, was NOT a fan of the wine. However, after tasting Chef's duck confit and sweet potato empanada with a vanilla-Shiraz macerated cherry topping, she changed her mind. The flavors meshed beautifully, toning down the woody finish, bringing out the fruit flavors of the wine and providing a delicious experience.
I felt this wine lacked the pepper backbone of a Shiraz, which would have not only helped get past the oak influence, but would have also paired wonderfully with Chef Chris' dish. Gia B Freer, and her husband Grant, two great people I met on Twitter the same time I met Ines, were taking photos of most of the food as it came out. It was awesome finally meeting this fantastic foursome, after over 19 months of "virtual friendship". They're great people, and really know how to have a good time. I look forward to trekking down to Miami for a Mojito-Tweetup soon, just to see them again.
If you haven't noticed, this wine tasting is a bit of a world tour. We started with California, and a light, citrus Sauvignon Blanc. We then moved across the world to Australia, having a fruit forward, jammy Shiraz. Now, it's time to go back to South America, and travel to Mendoza, Argentina. This last stop brings to us a very dry Cabernet Sauvignon.
Awarded a 90 point rating from Wine & Spirits magazine, and included in Food & Wines "Best Argentinian Reds" in February 2009, the Ernesto Catena Tahuan Cabernet Sauvignon 2004 was the famous wine of the night. The current, 2006, vintage was just given 88 points in this month's Wine Spectator magazine, so there was definitely a pedigree expectation with this wine. This was a very dry cab, firm tannins with dark fruits, mostly cherries on the palate. I felt the oak influence on this wine was very strong, as did some of the guests. However, when paired with the Mushroom and Cambazola toasts with oil cured campari tomato topping, this wine showed nicely. The "stinky" blue cheese quality of the cambazola really brought out the fruit, and helped coat the palate so that the oak didnt overwhelm the experience.
The night ended with several prizes given away to our friends. Two lucky people won Pokens, graciously donated from PokenGirl. Pokens are digital contact cards, and when two pokens are touched together, they instantly transfer contact information between them. It's a great gadget to have at a tweetup, and they're definitely becoming more popular.
Greg Tuttle, the twitter voice for Total Wine, graciously donated five $20 gift cards to Total Wine, and those five lucky winners need to invite me over when they open their purchases. Two bottles of wine were also prizes for the night, a Murphy-Goode from Himmarshee, and a Fuedo de San Nicola that was part of Pikchur.com's Hashtag contest. The Fuedo de San Nicola is a wine sold in Florida by Zsazsa And Company, Inc, and both wines were handsomely gift wrapped by Zsazsa and Company.
The November twineup is already being planned. The date will be announced soon. The next event promises to bring even more fun, with exciting new wines, paired with Himmarshee's fantastic food. However, none of this would be any fun without you coming. So clear your calendar, and get ready to circle the date. You won't want to miss #Twineup3
Thanks to Rick Boggs, 2nd photo, for his writeup of the event