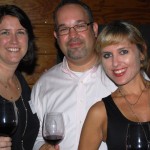 Twineup2 Will Be Oct 17, 2009 –
The first Wine Tweetup – or Twineup – was a tremendous success. We had over 40 people show up at Himmarshee Bar & Grille to taste three different wines, paired with items on the appetizer menu. Guests had the opportunity to taste Bennett Family Russian River The Reserve Chardonnay 2007 paired with Butternut Squash Purses, Sonoma Coast Vineyard Syrah 2004 paired with Gorgonzola Stuffed Dates, and Iron Horse 2004 BDX-Blend with Ostrich Meatballs.
Our second event, which will be Saturday October 17th, promises to be as good if not better. For only $15 per person, we will taste three new wines, selected by owner Dave Nicholas, a white and two reds, that are sure to impress. They'll be paired with some new creations by the Chef, exciting new dishes for everyone to enjoy. Add to that the face that we've got some fun giveaways, including Pokens from PokenGirl, and a bottle of wine from the folks at Pikchur, and you can see, this event can't be beat.
Pikchur is a way to upload photos to multiple Social Media platforms, Twitter, Facebook, Flickr, etc, on the web, from your phone, or by email. We will mention a special "Hashtag" during the event, and those who tweet the most photos with that hashtag during the event will win the bottle of wine. Be sure to create a Pikchur account before you get to the party, you don't want to miss out on the opportunity to win a delicious bottle of wine!
The event is Saturday October 17, 2009 and is from 8-10pm. The tasting part will start promptly at 8:15pm, but the fun goes all night long. In addition to a 3 wine tasting with pass-around bites, each guest will get a $20 off of $60 coupons to enjoy more food and wine at Himmarshee.
–
First Twineup was Sept 12 2009 –
Known for it's fabulous cuisine and it's extensive wine list, Himmarshee Bar & Grille, located near Downtown Ft. Lauderdale, will be offering you a wine tasting event not to be missed. Join us September 12th from 7-9pm as I host a three wine tasting flight, sampling some of the fine wines Himmarshee has to offer for only $15 per person. In addition to the awesome wine, there will be "pass around" appetizers to compliment each of the wines.
The first in a series, together Himmarshee and I will take you on a wine tasting adventure. We'll discuss the wines, why they were selected, as well as why the food pairings were considered. We'll also discuss other menu items the wines will go with, to heighten your dining experience. This will be a great opportunity to sample some new and exciting wines, expertly paired with food.
As if a night out for only $15 wasn't enough to bring you to the event, we'll be giving away some fabulous prizes. Throughout the tasting, we'll be randomly selecting winners for elegant gifts related to wine. Zsazsa and Company, Inc has created elegantly packaged wine gifts of some of the nights selections. In addition, New Times has generously offered tickets to Pairings, one of the hottest wine events in South Florida. As a participant in Pairings, Himmarshee is proud to be able to give away two pairs of tickets to this amazing food and wine event.
If you aren't fortunate enough to win the tickets being given away during the Sept 12th wine tasting, you can order your tickets on the New Times Pairings website.
Please join us for this stellar event. If you are a twitter user, please use the below TWTVITE to RSVP. If you don't use twitter, you can email me and we'll manually add your name to the event register.