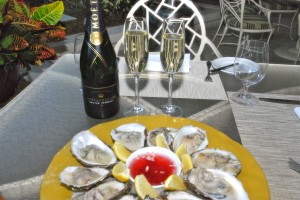 The Four Seasons Palm Beach offers luxurious accommodations, beautiful ocean views, and delicious food. To highlight some of the culinary delights they offer their guests, the Four Seasons is introducing a new weekend menu in The Livingroom. This newly created menu, Champagne and Shellfish, offers guests a perfecting food and wine pairing, where they can choose from an array of Champagnes and sparkling wines, and a host of shellfish, including oysters, mussels, and crab. I've teamed up with The Four Seasons Palm Beach to host a fun wine event to showcase this special menu.
Please join me on Friday January 20th from 6 to 7:30pm for a taste of Champagne and Shellfish. For only $30 per person, we will enjoy half-glasses of three different Champagnes or sparkling wines, and a sample of the shellfish on the menu. If you are not in the mood for bubbles, you're invited to instead try half-glasses of three specialty martinis, which includes some of the Four Seasons unique vodka infusions.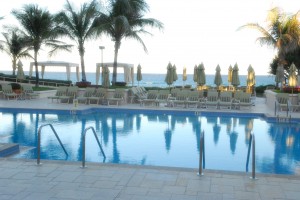 As if this special price for fine wine and food isn't enough to bring you to this fabulous resort, there will be a few promotional prizes for people who participate in the event! While most of those prizes are focused especially on those who use their twitter accounts to answer questions and send photos at specific times, everyone will have a chance to win a bottle of champagne from my cellar.
You can reserve your place for this fantastic food and wine event by calling Betty Taylor at 561-533-3748. You can also reach Betty and several other Four Seasons team members via their FSPalmBeach twitter account.
I look forward to your joining me and the Four Seasons Palm Beach for a good time with wine!