With Halloween a scant 3 days away, everyone is scrambling to make last minute plans. Whether that involves finding the best candy to give out, or the right wine and snacks for that killer Halloween Party you throw each year, you're looking for recommendations from trusted sources. That's where I come in! I just received two samples of red wine from Italy's Umbria region, Montefalco to be exact, that are anything but ghastly.
Wine often transports you to a time and place. It may remind you of a special occasion, spending time with a certain someone, or take you away from the hustle and bustle that you're currently facing. When I tried these two wines, I was transported to 2009, and one of my first live video streaming events with Dolce Debbie. Debbie is a chef with an amazing background in Italian cuisine, and I selected a Sagrantino from Umbria to pair with her roast beef tenderlion with fresh herbs. Pairing perfectly, Sagrantino is a very tannic, dry red wine that was not often found outside of Italy. These wines are readily available, however, and have a very reasonable price point to make them perfect for your Halloween party.
The first mention of the cultivation of the Sagrantino wine grape dates  back to 1549 in Montefalco. It was cultivated by monks to produce a raisin wine used for religious rites, and was also the wine farmers drank during religious feasts and festivals such as Easter, Christmas, and All Souls Day, the Catholic ancestor of Halloween.  Sagrantino thrives  on the hills of Montefalco and surrounding areas, where the indigenous grape achieves its best expression. Though it was nearly eradicated from the vineyards in the 1960s, it was resurrected in the late 1970s, and now there are nearly 1 million bottles of Sagrantino produced annually.
The Scacciadiavoli Montefalco Rosso 2010 is a fantastic old world red wine for just $20. Needing a good 60 minutes in the decanter, this wine offers dark red cherries and berries, herbal notes of rosemary and sage, with a very earthy, old world expression. The tannins are soft and well integrated in this dry red wine. I roasted butternut squash for dinner, and the two paired wonderfully, the cherry and herbal notes in the wine really coming through.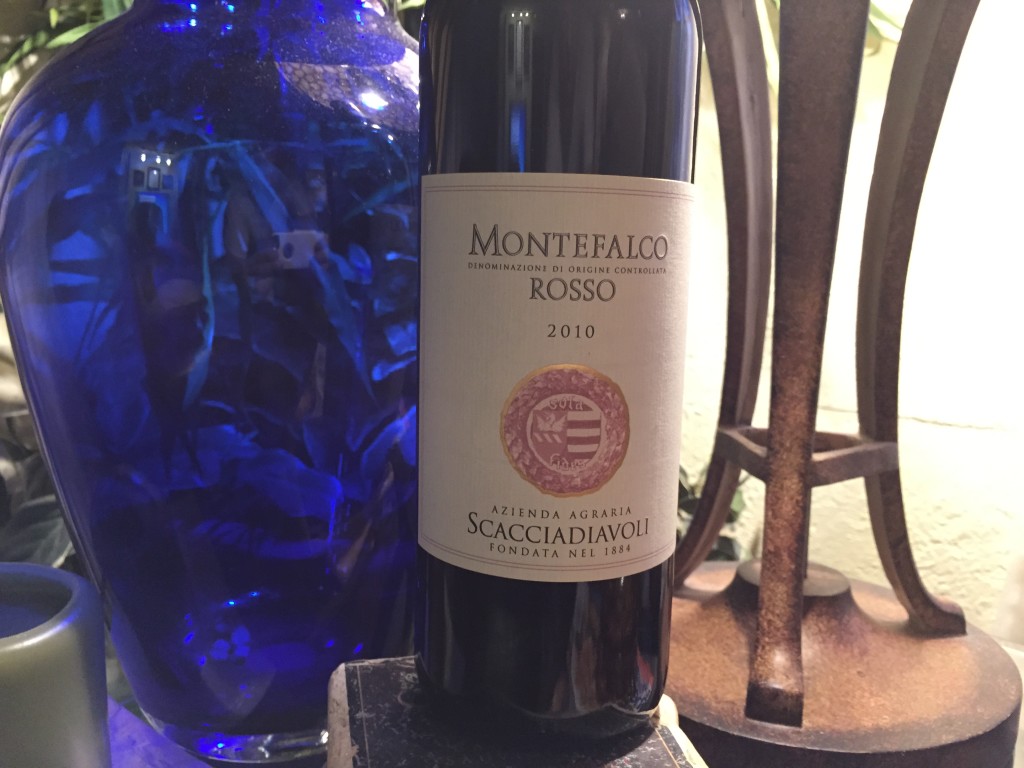 Scacciadiavoli Montefalco Rosso 2010 red wine from Umbria italyMade from Sangiovese (60%), Merlot (25%) and Sagrantino (15%), Scacciadiavoli Montefalco Rosso 2010 is made after the main production of Sagrantino is reserved with the desire to produce a fresher wine to accompany all kinds of dishes. It is aged in French oak for 12 months, then spends at least 6 months in bottle. I tried this wine over several hours, and it certainly opened and unwound with each hour. I think the second hour decanting was it's peak, showing more red raspberry and bing cherry, though the rosemary, dried cranberry and subtle cigar box was certainly present.  For $20, it's an old world Italian red wine worth trying!
Located in the heart of the Montefalco appellation divided between the three provinces of Gualdo Cattaneo, Giano dell'Umbria and Montefalco, Scacciadiavoli was founded in 1884, and at the time was considered a complex and modern wine "factory." It was the resulting dream of the Prince of Piombino, Ugo Boncompagni-Ludovisi, and is owned by the Pambuffetti family. The estate is 321 acres, and produces about 250,000 bottles of wine from 86 acres of vineyards.
In contrast, the Antonelli Sagrantino di Montefalco 2007 did not start opening up for well over two hours in the decanter. Sagrantino can be an extremely tannic grape, and even with 7 years of aging, the tannins were still extremely firm. Founded in 1881, Antonelli San Marco has an estate that spans 420 acres within Montefalco's DOCG winemaking area. Officially organic since 2012, Antonelli prefers a gentle extraction and moderate use of wood aging, allowing the grape to express itself.
With smokey, meaty aromas, the Antonelli Sagrantino di Montefalco 2007 offers dried blackberry, raspberry, and bing cherries on the approach. However, there is a nice bit of complexity to this wine, with secondary flavors ranging from coffee to leather to fresh rosemary and cedar. The pine resin/rosemary note is extremely prominent at first, but definitely integrates nicely as this wine decants. An extremely tannic red wine, the Antonelli Sagrantino di Montefalco 2007 screams for hearty dishes whether roasted lamb, pasta with a meat ragout, or similar meaty dishes. This is a nice old work Italian wine for $40/45, and well worth trying.
Hopefully you can scare up a bottle or two of these great wines from Montefalco this Halloween. Serving them at your party will surely be a treat for your guests.