Wine is about the story. It's not about tart cherries and blueberries wrapped in a blanket of cedar and sprinkled with generous amounts of pepper. Likewise, it's not about making sure you're pairing Merlot with lamb shank and Chardonnay with lobster. Sure, those things are nice, and work their way into most of my articles. However, in the end, wine is about the people behind the juice, who they are, as well as where and why they do what they do. I had the chance to meet, and have lunch with, the man behind Sequoia Grove, President and Director of Winemaking, Michael Trujillo.
The son of a Colorado rancher, Michael has been in the wine industry for over thirty years. While in college studying architecture and engineering, Michael took a spring break vacation in California, and it changed his life. Leaving his college studies in his 20s, Trujillo packed his belongings and moved to Napa, landing a job at a vineyard that would eventually become Domaine Carneros. There, he had the chance to learn from wine industry legends such as Tony Soter and Mike Grgich, helping shape his ability to craft excellent wine.
Michael soon transitioned to working in the cellar at Sequoia Grove with founder Jim Allen, as well as consulting winemaker Andre Tchelistcheff. Here, Michael Trujillo learned quite a bit about making wine. So much so, he started his own side project in the 1990s, Karl Lawrence, using the Sequoia Grove winery as a custom crush facility. In 1998, Trujillo was appointed as assistant winemaker of Sequoia Grove, and in 2001, when founder Jim Allen retired, Michael got his call to the big leagues.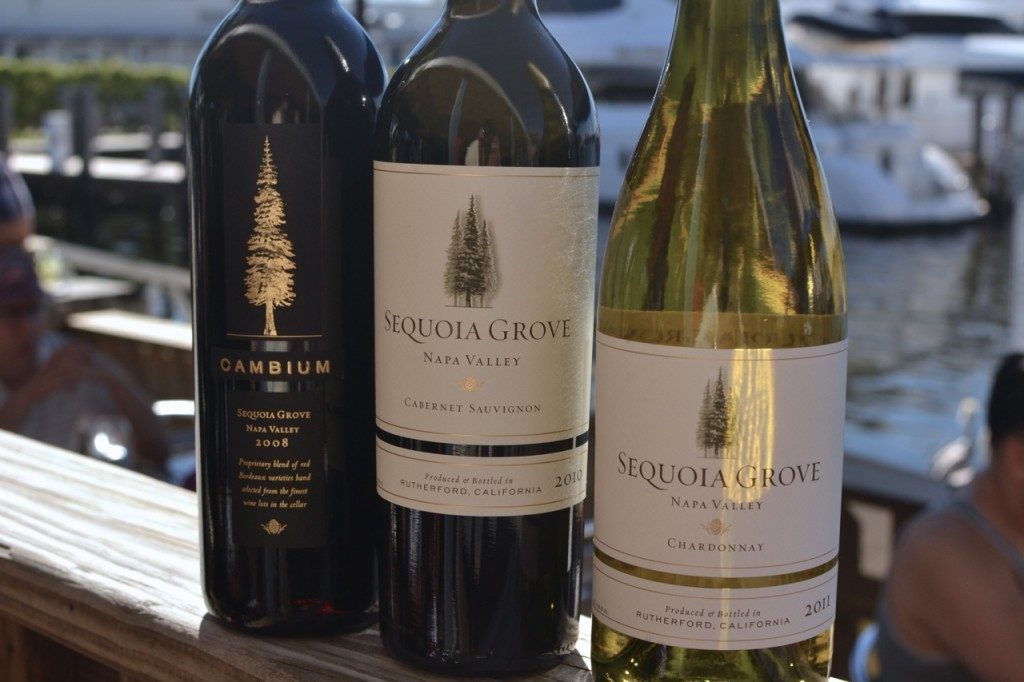 In 2001, the Kopf family, which had acquired 100% of Sequoia Grove, brought Michael to New York for a meeting. Meeting with "the three sisters", Michael was rather relaxed and aloof when they started asking him questions about how he would change Sequoia Grove. He was quite candid, discussing things like improving the quality of the winemaking equipment, elevating the quality of the grapes sourced, and the fact that the winemaking facility was "like cooking for an army on a Coleman stove." The Kopf family was impressed with his vision to improve the brand, and handed the reins over to Michael, who was made President and Director of Winemaking at Sequoia Grove. He began immediately putting into place the improvements he outlined.
By the end of 2002, the winery was buying and using only "A" quality grapes, where it had previously been sourcing "C" quality grapes. Vineyard Manager Steve Allen began replanting the winery's estate vineyards, including the purchase of an additional 48-acre vineyard in 2006. The goal was to eventually provide 80% of the fruit for Sequoia Grove Cabernet Sauvignon and Cambium, and have that fruit be top quality. Michael brought on UC Davis grad Molly Hill as Assistant Winemaker in 2003, who was promoted to Winemaker in 2008. All of these measured steps elevated the wine from an average California wine at a good price, to an excellent Napa wine at a good price!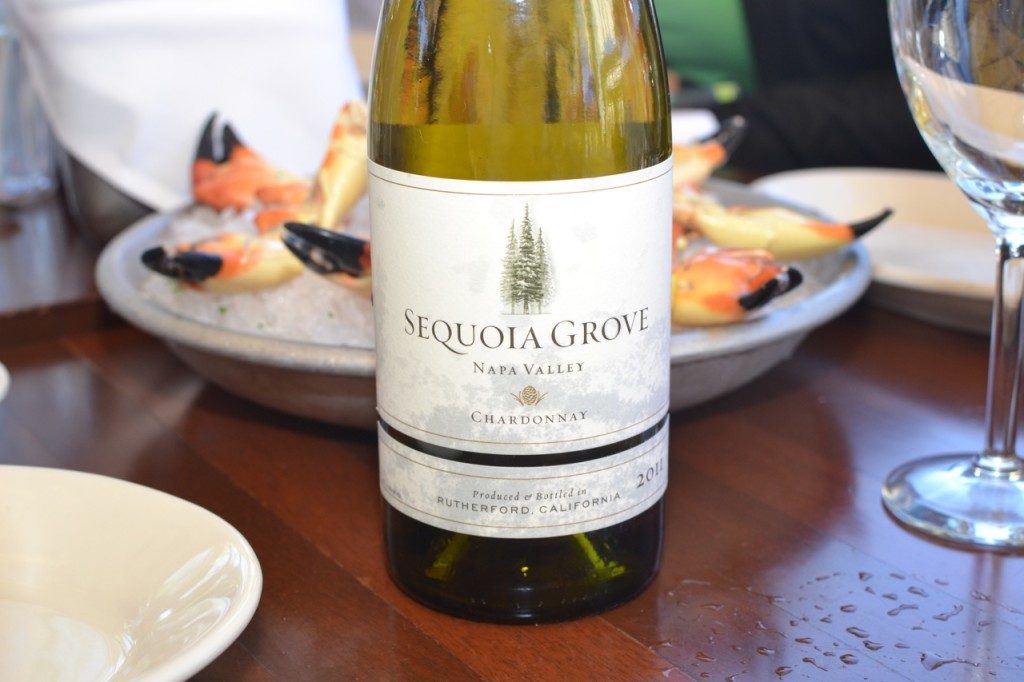 Back to our lunch together, which started with the Sequoia Grove Chardonnay. Beautiful aroma of vanilla and pear, with a crisp palate of Granny Smith apple, vanilla, rounded out by warm baking spice. The wine is crisp while being full bodied, seeing oak aging but no malolactic fermentation. The oak is well integrated, however, and there are no splinters in your glass, I assure you.  The acidity of the Sequoia Grove Chardonnay, which is excellent for the $27 price, worked perfectly with our Florida stone crab claws, as well as the Alaskan king crab legs.
We then took a pause from the serious look at Sequoia Grove wine, to play with… wine. Michael brought two barrel samples from the newer Sequoia Grove vineyards, 100% Petite Verdot, and 100% Cabernet Franc. These two wines show a lot of promise, and I look forward to seeing what Sequoia Grove does with them once they've aged.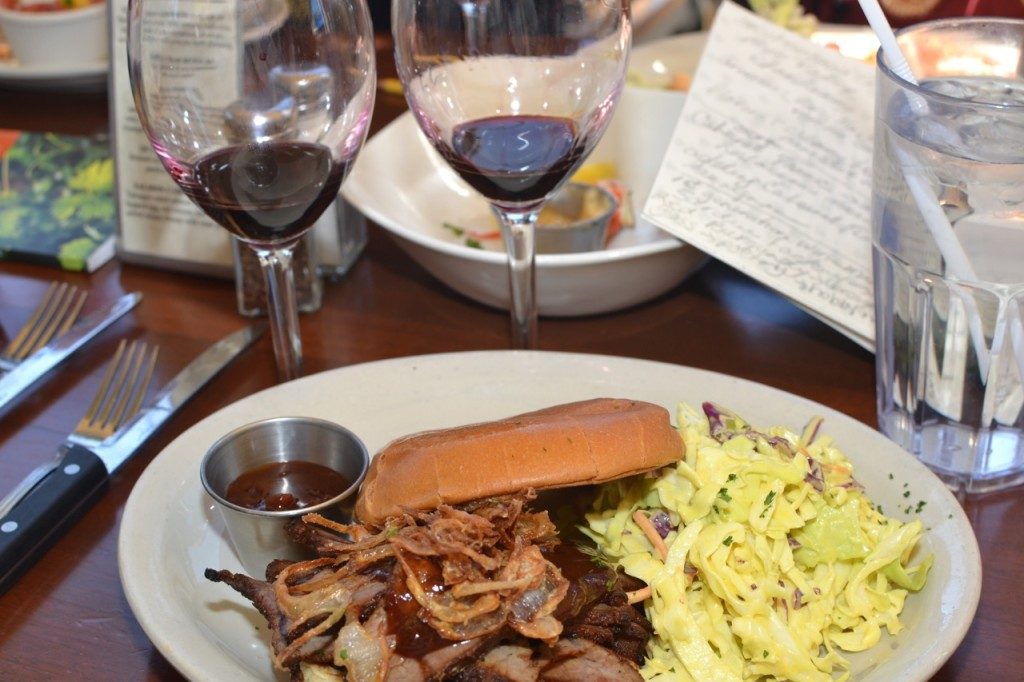 Lunch was served, and I chose a barbecue tri-tip sandwhich to pair with my two red wines. However, Michael encouraged all of his guests to order fish or lobster, in typical "Drink what you like" fashion. Several orders of fish tacos and lobster rolls were soon paired with Cabernet Sauvignon and a blended red wine, and no one was disappointed.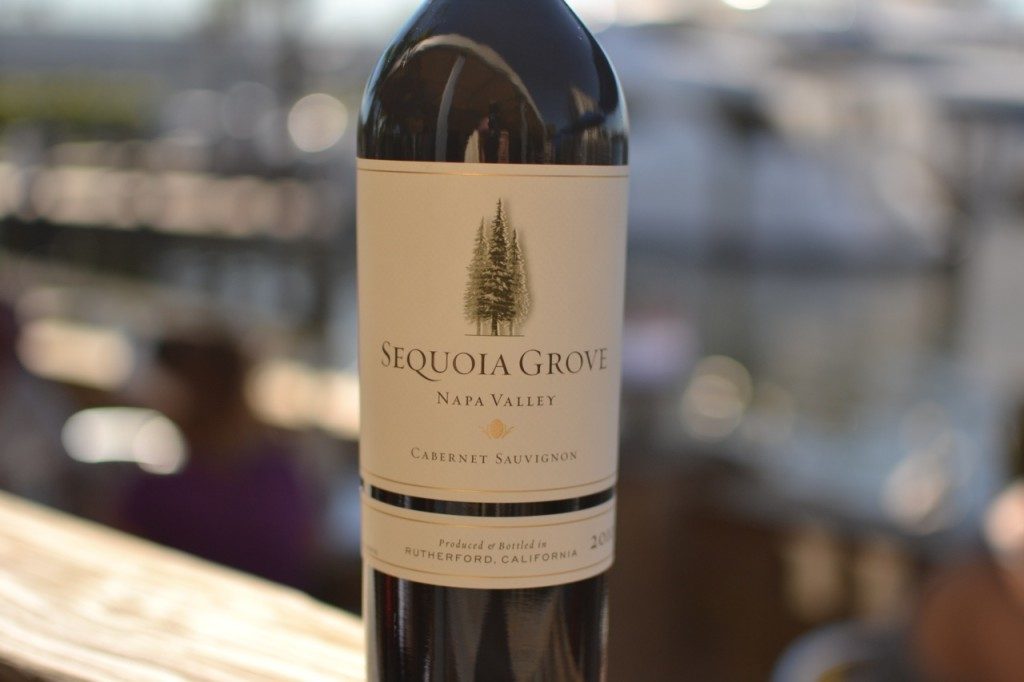 The first red wine, the Sequoia Grove Cabernet Sauvignon 2010, had aromas of blackberry and black cherry, and sweet vanilla scents.  The palate was beautiful red fruit, sweet spices, with a hint of vanilla and soft tannins, which were "sweet", as opposed to dry and astringent. The  Sequoia Grove Cabernet Sauvignon 2o10 is a blend of Cabernet Sauvignon from multiple appellations, aged in 100% American oak for 22 months, with 40-50% of it new oak. Absolutely lovely wine, and for about $38, definitely one to  have with food. It paired perfectly with my well seasoned barbecue beef sandwich.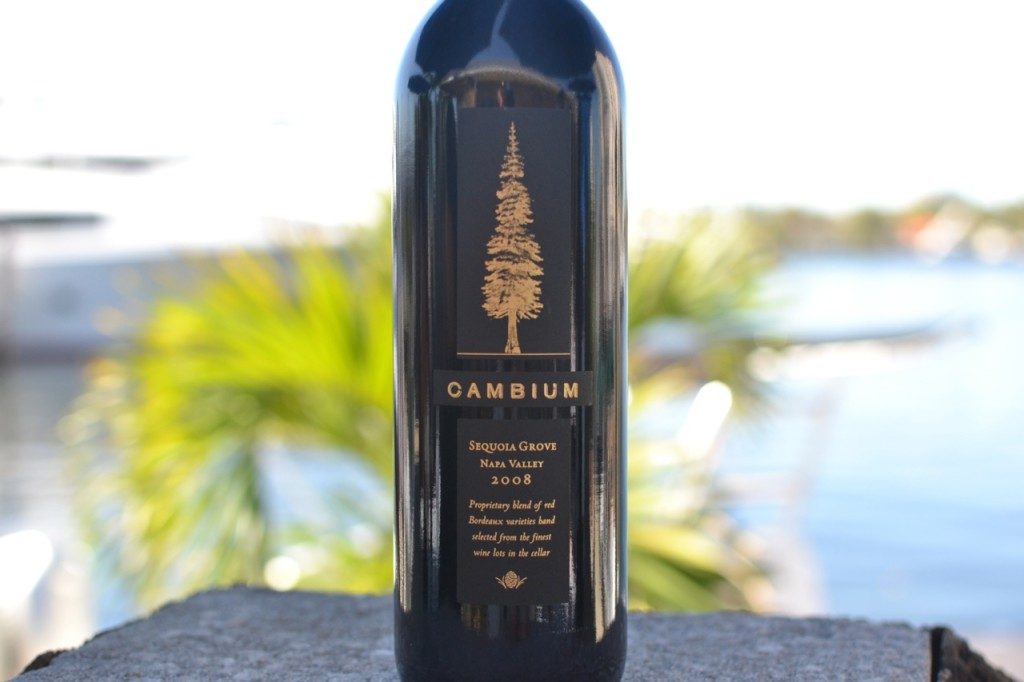 The proverbial icing on the cake was tasting the Sequoia Grove Cambium 2008. Michael said that when blending wine, his goal is to create the perfect blend, "where you smooth out the peaks, and fill in the valleys". A blend of Cabernet Sauvignon, Cabernet Franc, and Merlot, there are only about 400 cases of the Cambium made, and it's sold mostly in restaurants. Aromas of soft raspberry and vanilla with soft baking spice waft from the glass. The palate is a wave of spice, start to finish, with tart cherry and cranberry mixed with mocha and espresso flavors.
The Sequoia Grove Chardonnay and Cabernet Sauvignon are two wines that are well priced, and fairly available. They offer great quality, and are definitely worth trying. You should be able to find them where you live, as I saw them in both Total Wine and Publix here in South Florida. I told Michael these were "Put your money where your mouth is" wines…. wines that I may have had the chance to taste for free, but I'm happy to spend my own money on. You'll be happy you did too.
As for the rest of Sequoia Grove's story, it's still being written. Michael's goal of elevating the quality of the fruit continues, with a focus on building the estate vineyard program while nurturing the relationships he has with his current grape sources. He tools around with various grapes at the home vineyard, the Petite Verdot and Cabernet Franc mentioned earlier, as well as Malbec. He said we'll just have to wait and see what happens next. I'll be waiting, Michael!