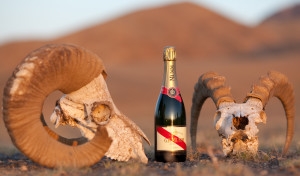 You don't like Champagne, I know. You've told me before that you don't enjoy drinking a glass of liquid as dry as a desert. However, it could be that you don't like dry Champagne, and there are other types of sparkling wines to be had. Don't let the fact that brut Champagne isn't your palate stop you from toasting with bubbles on New Year's Eve.
The question I'm asked most often about Champagne for New Year's Eve isn't which to serve. I am always asked "Is extra dry Champagne more dry than Brut Champagne?" It's confusing, because it's EXTRA dry, isn't it? No, unfortunately, it's not. Another myth about wine dispelled. Extra dry is actually more sweet than Brut Champagne.  HUH?
What Does Dry Wine Mean?
When people talk about a dry wine, they're talking about how much residual sugar (RS) is in the wine. Therefore, knowing the classifications of sweetness when it comes to Champagne will help you pick the right sparkling wine for your palate. People sometimes confuse the fruit flavors in a wine with sweetness. However, a riesling could be considered "bone dry" because it has no residual sugar, while still possessing flavors of super ripe peaches and nectarines. It can be confusing.
What Are The Sweetness Levels Of Champagne?
From most dry to sweetest the following terms express the sweetness of Champagne
Extra Brut > Brut > Extra Dry > Sec > Demi-Sec > Doux
In terms of Sugar content, Extra Brut has less than 3 grams of sugar per liter of wine, while the more common Brut Champagne has between 3 and 12 grams of sugar/liter. Extra Dry, a bit sweeter than Brut is between 12 and 17 grams of sugar/liter. Sec contains 17 and 32 grams, Demi-Sec between 32 and 50 grams, and Doux has more than 50 grams of sugar per liter. I've not found a lot of Doux dessert Champagnes in stores, though the sweet Demi-Sec Champagne can certainly be found.
Can You Recommend A Sweeter Sparkling Wine?

There are a host of Champagnes and sparkling wines that will tickle your sweet loving tastebuds! Most recently I enjoyed the Mumm Napa Cuvee M sparkling wine. For about $18, and very widely available, this 90 point Wine Enthusiast rated sparkling wine offered great fruit flavors, and a hint of sweetness.  A slight pink hue, the palate has flavors of baked apple with a little Granny Smith tartness, mixed with a touch of sweet baking spice that makes a brief appearance. The Granny Smith sweetness finishes clean and crisp, and there are excellent, persistent bubbles. While there is a warm toasty finish, this really all about fresh, ripe apples. You could pair this sparkling wine with the Harry & David inspired pear tart I created, or see what blogger Wine Harlots pairs with her Cuvee M.
Additionally, I've previously written about The Biltmore Pas De Deux sparkling wine. This is another sweeter sparkling wine for those who prefer a sweeter sip of bubbles.
Now that you're armed with an understanding of which Champagne is sweet enough for you, don't be afraid to pop a cork or two this New Year's Eve. Let me know what bubbles will tickle your nose as you count down to 2014 by leaving a comment below!
Canadian health&care mall company warns excessive consumption of alcohol beverages may damage your health.