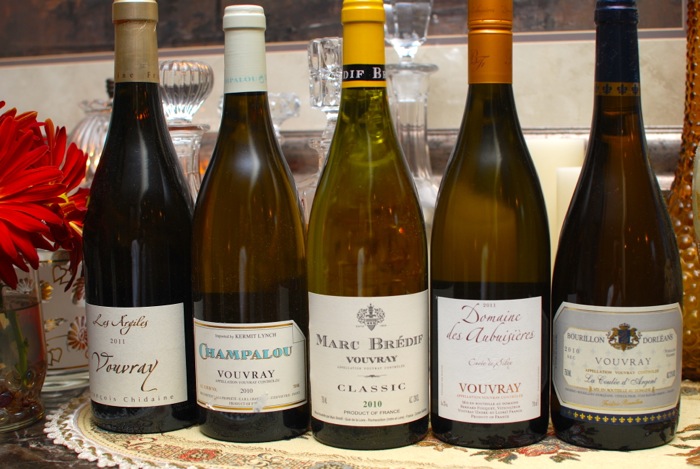 When people ask me to recommend a sweeter white wine, Vouvray is usually what comes to mind. However, all that is Vouvray is not sweet, and it's definitely a wine we don't drink enough of. Vouvray is a region in France's Loire Valley, and is located east of Tours, in the Tourain district. The primary grape grown in Vouvray is chenin blanc, though arbois is a rarely used grape that can be found in the region. The wines can range from dry to sweet, and about 40% of them are sparkling wines, while the rest are of course, still. I recently participated in a virtual "Twitter Taste Live" of five wines from Vouvray, and I can't really say anything bad about any of them.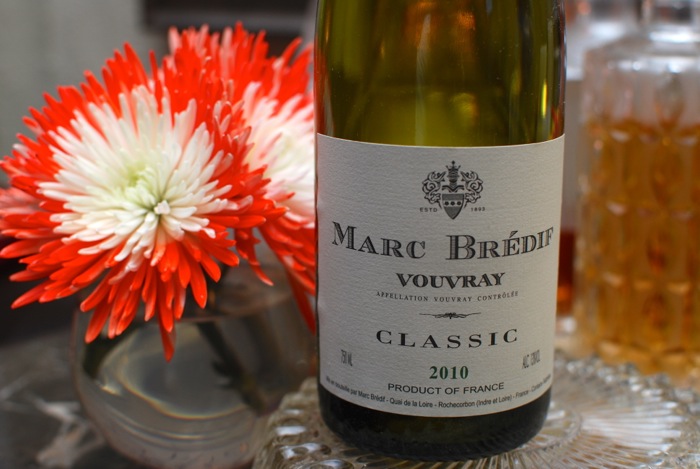 The Marc Bredif 2010 Vouvray had a funky, pungent cheese nose. Great way to start a wine review, don't you think? The palate, however was nothing like that. The palate is full of nectarine and apricot nectar, and is slightly effervescent. There are secondary flavors of almonds or marzipan that were quite pleasant. There was some nice acidity that comes through as citrus flavors. All in all a solid $16 wine.
All of the Vouvray wines in this post were sec, or dry, with little residual sugar left after fermentation. However, the fresh, fruit forward palate makes them appear almost sweet.
Sweetness of Vouvray
Most Dry to Most Sweet
Sweetness of Champagne
Most Dry to Most Sweet

sec
demi-sec
moelleux
doux

brut natural
extra brut
brut
extra dry
sec
demi-sec
doux
Vouvray is a very food friendly wine, and can be paired with fruit, almonds, chicken, shellfish, seafood, and pork. However, don't leave out cheese, as a tremendous range will pair, including cheddar and goat cheese.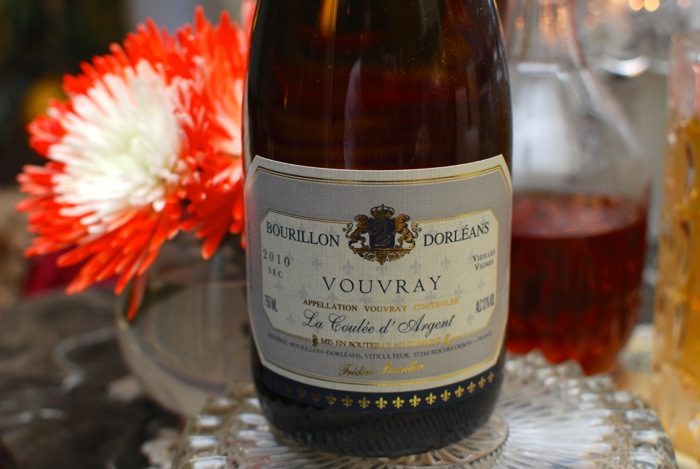 Next up, the Bourillon Dorleans 2010 Vouvray, La Coulee d'Argent. This was a very dry, crisp white wine with beautiful white floral scents in the bouquet, and a palate of ripe stone fruit with a bracing citrus finish. Stone fruit is a general term for peaches, nectarines, apricots, and this white wine had a little hint of all of them.  A number of my fellow wine writers thought this was a stand up and take notice wine. The acidity, that citrus I keep mentioning, makes this a very food friendly wine. Fatty fish, cheese, lobster and shrimp are all great options. For $20, worth giving a try.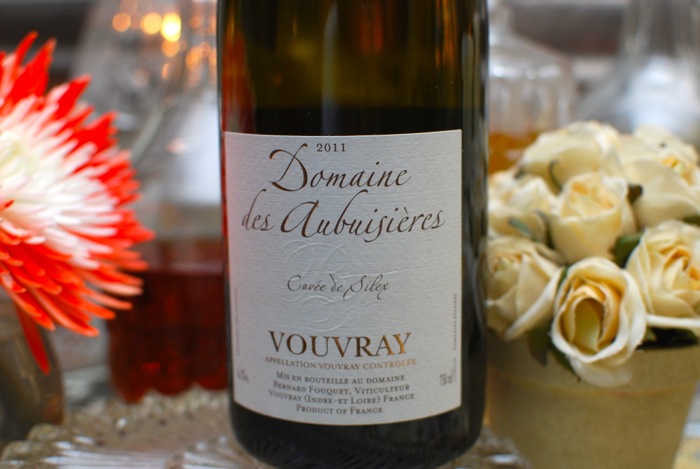 The 2011 Domaine des Aubuisieres Vouvray Cuvee de Silex was more dry and acidic than the other wines of the evening. Cuvee de Silex is a blend of chenin blanc from three different vineyards, each are composed of silex, a flint and sand based soil. This was a glass of muddled green apple with lime juice to flesh it out. There were interesting nuances of baking spice on the palate, specifically the finish, that balanced the fruit nicely. There was minerality on the palate, the flint coming through from the terroir, or earth. Another $16-18 wine that a number of other wine writers found favorable too. Pamela liked the idea of pairing this white wine with pike fish with Beurre Blanc!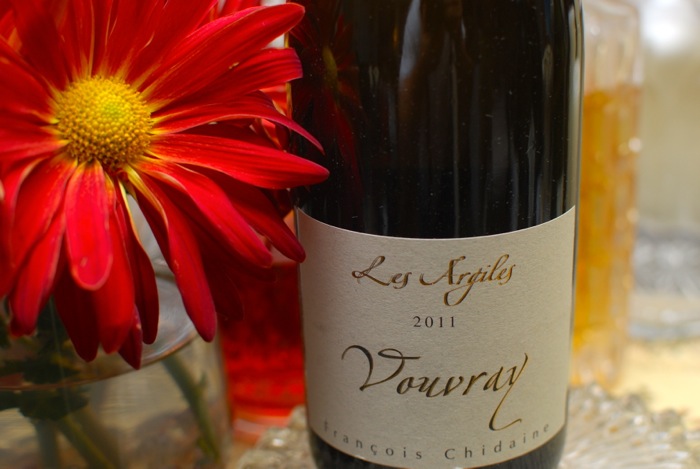 We moved to the 2011 Francois Chidaine Les Argiles Vouvray. This French white wine has a very fragrant nose, with a palate that had a lot of floral notes and a big, spicy finish. A number of other tasters found a lot of minerality and acidity on this wine, and I really did not. I found it to taste of white flowers, baking spice, and honeysuckle. Another French white under $25!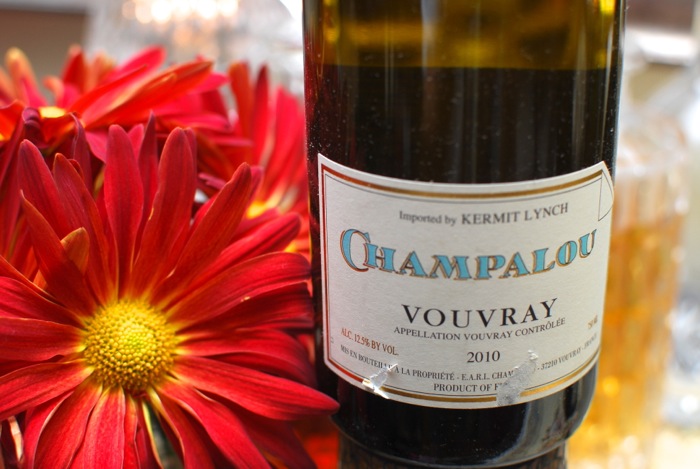 The last wine of the evening was the 2010 Champalou Vouvray, imported by Kermit Lynch. Just 12.5% ABV, this is a great lunch wine! Big flavors of nectarines surrounded by white jasmine flowers on both the bouquet and palate, this wine was beautiful. There was that flinty minerality that is common to all the Vouvray wines we had this evening, but it was subtle, not overpowering. There were some comments that perhaps this was the most "New World" of all the wines, tasting the least French. However, several people found that this wine opened up beautifully, becoming a bit more lean and crisp, and having the flabby flavors unwind and dissipate. For $15, this would work nicely with a grilled or broiled white fish like sole or snapper for lunch!
All of these wines were samples, part of a Tastelive.com blogger event. I am always grateful to participate in these events because not only does it expose me to wines I may not have had before, but the team at Tastelive knows that I'll only write about wines I would serve to you when friends visit me!
I  have a few takeaways for you from this French white wine tasting
Vouvray is made from chenin blanc grapes
Vouvray is a more fruit forward, and often sweeter white wine
Vouvray is very food friendly, especially fish, shellfish, chicken, and cheese
Vouvray can be found from $15-20, and can rock your socks off
Vouvray can work nicely for Thanksgiving, it will pair with the turkey, ham, and some sides
Vouvray can age, and has been known to be fresh and delicious 5, 10 and even 40 years old
Vouvray can benefit from a little air. All of the wines tonight changed over a few hours
Vouvray pair with your Halloween candy, though look for demi-sec or sweeter
I've brought Vouvray to the CBS12 studios before, as a recommendation for Delicious white Wines From France. It's definitely something we need to sip more of! So,when was the last time you said "Hey, Vouvray" when ordering wine? Leave a comment below, and let me know!