Cooler weather typically means people find themselves reaching for cozy food and wine pairings. While you may not live in a cool climate, you still may change your eating and drinking habits in fall and winter. One dish that really works in warm or cool climates is BBQ baby back ribs. They're hearty and delicious, and can be made indoors or out. And, since Zinfandel works so nicely with barbeque, I'd recommend pairing BBQ ribs with Napa Cellars Zinfandel 2009.
Napa Cellars is part of the Trinchero Family Estates portfolio. They own or market a host of labels, from Sutter Home to Newman's Own to Napa Cellars, and even Fre alcohol free wines. I received several samples from this past vintage release of Napa Cellars wines to review. Since I've already written about Napa Cellars Chardonnay when pairing with shrimp,, I thought I'd take this opportunity to focus on one of their reds. Coming in at $22, this Napa Zinfandel has powerful, big fruit without being over the top jammy.
The Napa Cellars 2009 Zinfandel is 88% Zinfandel and 12% Petite Sirah, and is aged 14 months in French and American oak, 10% of which is new. The bouquet and palate are very similar, with chocolate and raspberries on the very inviting nose. The palate is fresh red berries surrounded by baking spices, cinnamon and a herbaceous note as well. The finish is very long, with a predominantly spice and pepper note. There's a little cocoa that dances around that fruit and spice, adding a layer of complexity that was nice. Letting it breathe for 15 or 20 minutes did not tame this powerful wine, which was 14.7% ABV. However, it's big without being jammy or hot, and that makes it worth trying.
Now, the ribs part requires a story. Our family loves to grill, smoke, and cook in general. I respect vegans and vegetarians, and apologize to my plant eating friends. This recipe is not going to please your palate. However, PLEASE feel free to post your favorite vegan or vegetarian recipe below, and I'll try it, pairing it with some delicious wines.
One thing that makes it to the table at almost every cookout is ribs. I have several recipes, from a 6 plus hour smoke, to a 1 hour grill, to baking them in the oven. All of them are tasty, but Stacey Ribs have all but cemented their place as our favorite. Stacey is Robin's cousin, who is an amazing hunter. The man lives to hunt. And he's apparently equally as good at cooking what he hunts. In eight years, Stacey has only been to two or three events at the same time as us, but this year at the lake house was the best. He rolled out his trailer barbeque and fired up the coals. He then cooked some of the best baby back ribs I had ever had, earning the name "Stacey Ribs". The preparation was simple, and the results were divine.
While the coals were heating the BBQ pit up to 325 degrees, Stacey peeled off the silver membrane from the ribs, and seasoned both sides with Everglades All Purpose seasoning, salt, and pepper. He tossed the ribs onto the grates, indirect heat, and let them cook for an hour and a half, turning two or three times. Then, during the next 20 minutes he basted each side with some BBQ sauce, mentioned below. He pulled the ribs off the grill, let them sit for 5 or 10 minutes, then cut and served. They were tender, moist, and flavorful. The simple preparation was very exciting, and the sauce was some of the best I'd had in ages.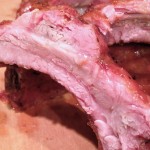 I did the exact same preparation with my Traeger grill, and it was incredible. The Trager holds the heat constant, and produced a nice smokey flavor. I used apple wood pellets, as I light a lighter, sweeter smoke. And while the seasoning and smoking are important, I think the finishing touch was the sauce that Stacey used. He picked it up at gas station in Kenansville, FL. From what I gathered, the company was small and just sold locally to the gas station. Stacey picked up a bottle while driving by once, and swore by it. I looked the shop up online, ordered a few small bottles, and the rest is culinary history.
The sauce is Jimmy Bear's Original BarBerQ sauce. They sell it online, and accept paypal. I ordered two of the 16 oz bottles, and cooking two racks of ribs used about 1/3 of a bottle. I didn't dissect the flavors, but it seems to be a mustard base with honey flavors. The spices are excellent, and it's a great balance between savory and sweet that worked perfectly on the pork ribs. I think the sauce, the ribs, and wine all made a perfect pairing for a good time with wine.
In addition to your favorite vegan or vegetarian recipes, what foods do you find yourself making and eating more of as summer ends? What's on your table these days? I'd love to know, so comment below.