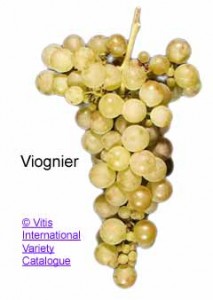 Have you ever wondered "What is that?" when a lunch date ordered a glass of viognier with their meal? Have you scanned a wine list, seeing a number of French wines, or California wines, made with viognier and wonder what it taste like? All too often we stay in the safe zone with our wine choices, rarely venturing outside our box. After reading this, you'll not only know what to expect in that glass of wine, but you'l be able to pair it with foods, and talk about it, if you want.
Viognier is a French grape, not very widely planted there any longer, with less than 300 acres planted in it's Northern Rhone home. Pronounced VEE-ohn-yay, it's the main white grape of the French appellations of Condrieu and Chateau-Grillet, and often blended with Syrah to add an exotic bouquet to the red wine. Viognier wines exploded in popularity in the United States in the 1990s, and there are more than a thousand acres of the white grape there today. You can find viognier wines from Virginia and France's Languedoc-Roussilon regions in addition to California and the Rhone. Don't be surprised if you see it from South America as well.
Typical markers, or notes, of viognier include white floral such as honey-suckle or jasmine, as well as orange blossom. Along with a honey or honey-suckle notes, you'll also find stone fruit flavors, peach, apricot, nectarine, as well as a nice spice component that can be described as baking spices. On the palate, you will find it to be typically fuller bodied, often with an oily or "lanolin" feel in your mouth.
Food and wine pairings with viognier include chicken and fish dishes, from grilled to broiled, to poached. Those meats, or others such as veal, with butter or cream sauces will also work well with viognier . The white wine will enhance fruit flavors, making it s great pairing with fruit dishes as appetizers, or as a topping with those chicken or fish dishes. Viognier will pair nicely with lobster, crab, shrimp or other seafoods. This is clearly food friendly, but also very nice white wine to sip on it's own. I've reviewed a Sobon Estate Viognier before, as well as a Lange Twins Viognier. Additional viognier reviews are coming, including a new one from Trattore Wines in Dry Creek Valley, CA.
Enjoy some viogner today, and let me know what you think!