As the holidays approach, more and more people are asking what wine goes best with turkey for Thanksgiving. The standard answer most wine writers are giving is "Drink what you like."  Indeed, the idea of "Thanksgiving wine pairings" is rather overdone, and for many reasons. First of all, a Google search will bring up thousands of articles from past years, all giving the same wine pairing advice. Secondly, with the large amounts of food on the Thanksgiving table, spanning the taste spectrum from savory to sweet, it's impossible to say one wine goes best with everything. Therefore, the new stock answer is drink what you like.
That's all well and good if you know what you like. However, some people may not be sure what wine they like, or perhaps aren't looking for the wine that pairs with turkey, but rather a new wine to try they haven't thought about. That's where I come in. I hope to offer a few different options in this and the next few posts that help  make your wine pairing more fun for the holidays. Under the guise of talking about the 2011 vintage of Beaujolais Nouveau, I visited Brett Hubbard and his By The Glass radio show to talk turkey, and wine.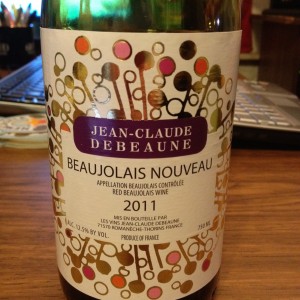 The show took a quick look at Beaujolais Nouveau, which is the marketing gimmick from the 1970s designed by négociant Georges Duboeuf, along with others, to generate cash flow and move the wine that wasnt necessarily the best that the Beaujolais region had to offer. It worked, and year after year they pump out around 49 million liters of grape juice, exporting about half, and we buy it. It goes against almost everything France stands for. It's flashy, with whacky bottle designs, and it's young, going against all of the age requirements wines are held to in every other region.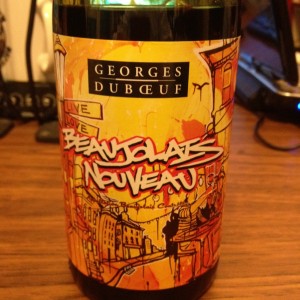 First was Jean-Claude Debeaune 2011 Beaujolais Nouveau. It was horrible. Two of us choked when we took our first sip! It reminded me of a jelly donut with way too much powdered sugar. The only reason you should drink this is if someone is holding a gun to your head. It had no merit, what so ever.
Next up, the Georges Deboeuf 2011 Beaujolais Nouveau. The packaging was pretty funky, with a Parisian cafe scene on the bottle. It was really eye catching, and my photo doesn't do it justice. And, amazingly, the wine inside wasn't horrible. It was simple, easy to drink, there was a little structure there, and at the price, which was under $10, it would be good for more than just putting out a fire. While it wouldn't be a wine I serve for Thanksgiving, or really at all, I wouldn't turn a glass away.
Now, on to the real Thanksgiving wine pairings. I selected three wines that are all safe holiday pairings, based solely on the grape and the region. I had never tasted them before, but felt they were safe picks. One of them was a favorite region in Burgundy, another was from a producer with a great history with the grape, and the last was a winery that I've reviewed and enjoyed for years and it was my failsafe pick, I knew it wouldn't suck!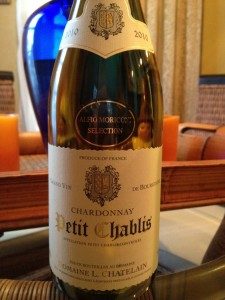 When people tell me they hate chardonnay, my first response is topour them a glass of Chablis. Often called the truest expression of the grape, Chablis is typically unoaked, does not see malolactic fermentation that would wine that buttery mouthfeel and palate, and is crisp, clean and mineral driven. The Domaine Chatelain 2010 Petit Chablis is a great example of that. For $18, this wine offered a great expression of Chablis, with notes of pear and apple, or what we described as orchard fruit on the show, with a medium body and good acidity which comes through on the palate as a citrus note. The wine had a nice, long finish, which meant after you swallowed, you still had some of the flavors in your mouth, and that would interact nicely with your next bite of food. The body of the wine will stand up to the rich Thanksgiving day feast, and the acidity makes it very food friendly. It's well balanced, and it will be a welcome addition to your holiday meal. I picked this wine up, as well as the next two, at Total Wine and More in South Florida.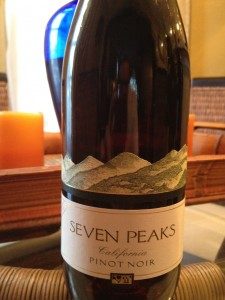 Pinot Noir is a wine that works well with almost any meal. It's typically light enough to go with white meats, but acidic and heavy enough to go with beef if you want. The Seven Peaks is produced by Deloach, makers of fine Russian River Valley Pinot Noir. The Seven Peaks had good fruit, berry and strawberry, with a little spice on the finish. It probably isn't going to wow Burgundian pinot noir fans, it was a bit concentrated and jammy for my palate, the weight and acidity, again, make it a great wine for your Thanksgiving feast. Additionally, for only $9.99, this is a wine that not only works for a holiday meal, but also works for every day. It did open and soften a little with air, and I think your experience will change, in a good way, as you sip this throughout the evening.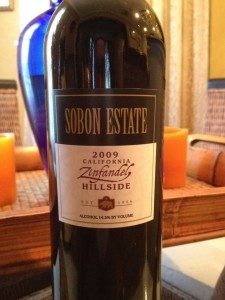 Finally, we looked at theSobon Estate 2009 Hillside zinfandel. One of the lower priced Sobon wines at $9.99, there is a lot of value in the bottle. A mix of estate fruit and purchased fruit, this zinfandel is rich and jammy, offering big berry fruit, while not being over the top. At 14.5% alcohol by volume, it's alcohol restrained and balanced, offering a very nice glass of wine for the price. It's medium to full bodied, and has a nice finish of spices that balance the fruit on the front end of the palate. While not my favorite Sobon Estate Zinfandel, as I prefer the slightly more expensive Cougar Hill or Rocky Top for $16, this red wine is going to work nicely on Thanksgiving. As a matter of fact, Jason from the By The Glass Show team said it was going to be his pick for the holiday meal. It'll work nicely with turkey, pair with cranberry sauce, and probably stand up to any heavier foods you serve as well. It's also a very nice sipping wine, and you'll enjoy it long after the meal is done.
I'll be back tomorrow with three more wines for Thanksgiving that I'll be talking about on CBS12. Only one grape is a repeat, and it's a very different wine, so be sure to come back and check it out! You can also catch my By The Glass Show visit online!