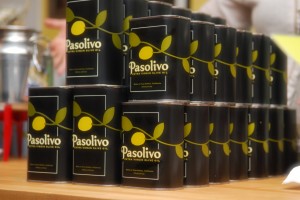 I know I went to Paso Robles to cover the up and coming wine region. I know I was sent there to see what California was doing with Rhone varietals and share that information with you. However one of the very exciting things that came from my trip was a new love for olive oil, and I have Pasolivo to thank for that.
I did not know there are a good number of olive tree groves in Paso Robles. A future article will cover Still Waters Vineyards, where they have 100 year old trees on the property, in addition to fantastic wine experiences. Pasolivo has 45 acres of olive trees, 12 different olive varieties in over 6,000 trees, all of which are farmed organically and sustainably. However, what struck me about Pasolivo was not only the small business success story, with a small crew of people who pick, press and pack the oils by hand, but also the large variety of oils made and knowledge that went with them.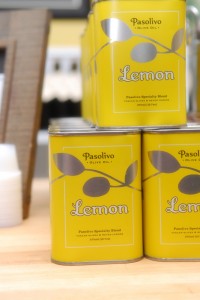 Joeli Yaguda, the owner of Pasolivo is excited to have people in the tasting room and can't wait to taste you on her artisan olive oils. She will explain the various flavors of the extra virgin olive oils, from grassy notes to peppery finishes. Joeli will break out the flavor wheel and explain everything that her olive oils may have to offer. Then you'll get the chance to sample some of the infused oils such as lemon or tangerine and truly have your mind, and taste buds, blown away!
Mostly used for finishing oils, the tangerine and lemon oils are great. Infused with distilled citrus oils, they add huge flavor to salads, poultry and fish.  Plate up a delicious grilled fish or chicken breast with a nice salad, drizzle some citrus or lemon Pasolivo on top, and watch your guests eyed bug out while they proclaim you a culinary genius. Joining the "Press Club" entitles you to certain limited production oils, as well as a very well done booklet that includes recipes and ideas for using these great oils. One tip for the Tangerine oil was to rub it over turkey and season with rosemary.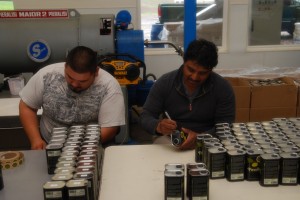 I also learned two very important storage and preservation tips about olive oil. First,  extra virgin olive oil has quite a limited shelf life. Each bottle of Pasolivo, tin actually, is dated on the bottom, letting you know when it's best used by.  Olive oil is best when used within six months of press date.  The oils you get in the grocery store may have spent a month or six in the warehouse before you had the chance to purchase, potentially impacting their taste.  Second, like wine, olive oil is light sensitive. That is why Pasolivo went through a number of bottle and tin packages, finally settling on an Italian option that best preserved the flavor of the oils. Joeli tried a number of local and US made options, but none were as effective as preserving the flavors.
Pasolivo Olive Oils have won a slew of awards, too many to mention here. The price is about $25 for a 300ml tin, representing the labor and cost intensive process to create these artisan oils. I've compared their prices to other producers in California, and they're similar. While they're more expensive than the mass produced olive oils you'll see in the grocery store, they're also fresher, higher quality, and a lot tastier. That said, I just finished my free sample and will order one of the citrus options, as I was so enamored by my visit.  If you try some Pasolivo olive oils, let me know what you think when your oils arrive!