The old adage of "practice makes perfect" holds true, even when it comes to tasting wine. It's only through experience that you'll know what you like, and be able to buy wine with confidence. Dale Cruse believes that buying the perfect bottle of wine should be one of the easiest things you do. I agree with Dale, and so does the team at Robert Mondavi Winery and Constellation Brands. To prove it, they're taking the winery experience on the road, and bringing the Robert Mondavi Discover Wine Tour to a festival near you.
I sat with the team at the Discover Wine pavilion from 6 until 9, and chatted about everything under the sun. During that time, we had the opportunity to of course sip on some Robert Mondavi Winery wines, including the fume blanc, chardonnay, pinot noir and cabernet sauvignon. We then discussed the goal of the tour, which is not just to put a bug in your ear about Mondavi wines. It's to provide an interactive educational experience that's fun while being informative.  The tour was kicked off in Arizona on April 9th, and made it's way to West Palm Beach for SunFest from April 29 to May 1st. It'll stop in Dallas, Los Angeles, Denver, Atlantic City, Lenox, Royal Oak, Chicago, and wrap up in Philadelphia. And there's some great things to encounter.
Upon entering the pavilion there is the Robert Mondavi Essence Station to experience. Taste is 80% smell, and understanding some of the typical scents a wine will have can help correlate the taste with the scent, and make it a bit easier to articulate what is in the glass. If you've never sniffed cassis or lemon grass, you may not understand some of the flavors in wine. The essence station had 12 different scents, from pear and vanilla to ceder and french oak, that help broaden your sniffing horizons. There are also signs explaining some of the usual aromatics wines have, both red and white, as well as a map with some California Wine Facts. I enjoy it when wineries have scent stations, and loved the one at Ehlers Estate, since they had a "barnyard" essence can!
After sniffing around the Robert Mondavi Discover Wine pavilion, you can stop over at the iPad station. Capitalizing on the ease of putting multimedia on the portable device, you can not only enter a contest, you can see photos of the winery and vineyards, and even email yourself recipes that the tour uses as food and wine pairing demonstrations. I don't believe the iPad station was ever empty during the three hours I sat at the pavilion. With three iPads, there was never more than a few minutes wait to link up and learn! After signing up, an surfing around, it's time to belly up to the wine bar and do the most fun part of the experience, taste the wines!
The tasting bar has multiple options to sip and savor from multiple Robert Mondavi wine lines. This is where you have the opportunity to do what Dale Cruse and I recommended earlier, taste different wines to see what you enjoy. You can start with some of the Woodbridge sparkling wine, because bubbles are always appropriate! They even serve it in nifty plastic champagne flutes, which I think added to the experience. They have a number of white wines to try, including the fume blanc, chardonnay and riesling. After you've tried those, you can sample their reds from the pinot noir to the cabernet sauvignon to the meritage, a blend of merlot, cabernet sauvignon, petit verdot, malbec, and cabernet franc.
While tasting the wines, you can sit at the provided benches and tables and sip while relaxing. There's live music in the pavilion, as well as from the surrounding music festival that creates a fun atmosphere. Additionally, you will have the chance to watch any of three different demonstrations, from Food and Wine pairing (and tasting), to a Wine 101 discussion. All of this is designed to not only be fun, but a little educational. It's very much the experience you'd have at a winery, sampling what they have to offer, learning about the history of the people behind the wine, and walking away with some tidbits about food and wine to enjoy in the future.
One of the things I love about the Robert Mondavi Discover Wine Tour is after you have sipped and sat a spell, you can get up and walk around to enjoy the festival! It was great to walk around Sunfest, listening to live music while enjoying the vendors and food. It was my first trip to Sunfest, but it certainly won't be my last. And you can be sure that when I attend Sunfest 2012, I'll be stopping by the Mondavi pavilion to have a good time with wine.
Mondavi wine essence station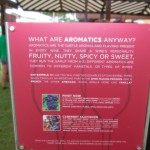 Mondavi red wine essence information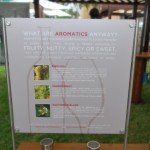 Mondavi white wine essence information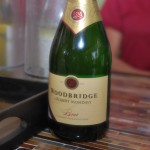 Woodbridge Brut Sparkling Wine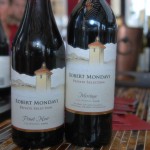 Robert Mondavi Private Selection reds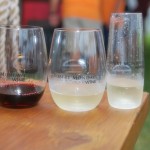 Tasting Mondavi Wines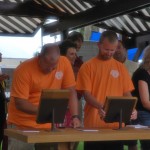 Using the iPad Station at the Mondavi Discover Wine Pavilion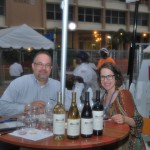 Matthew Horbund sips Mondavi wines with Jaki Palacios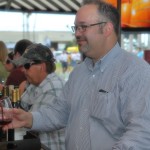 Matthew Horbund samples some Robert Mondavi meritage red wine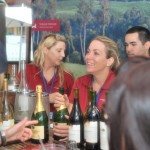 Tasting Robert Mondavi Wines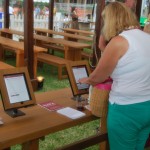 Robert Mondavi uses iPads for Education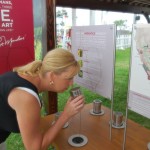 Robert Mondavi Essence Station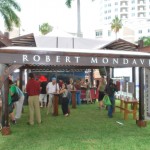 The Robert Mondavi Discover Wine Pavilion at Sunfest 2011