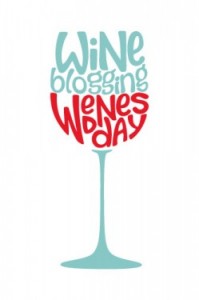 One of the issues many new to the wine world face is learning the grapes certain wines are made with. This is more an issue with old world wines, such as Italy and France, though it can be an issue in the US as well. For example, when I tackled today's Wine Blogging Wednesday post, Rhone not from Rhone , I had to first recall exactly which grapes make up Rhone wines. The main ones are GSM, Grenache, Syrah and Mourvedre, if you weren't sure. However, there's a great supporting cast of cinsault, petit sirah, viognier, roussanne and marsanne. For today's WBW post I selected a Paso Robles cuvee, or a blend, of Rhone varietals and am excited to tell you about it.
By way of background, Lenn "Devours" Thompson started an initiative to corral wine bloggers, getting them focused on the same topic once a month, called Wine Blogging Wednesday. Each month a different blogger would come up with a topic, and we'd all write about it. I didn't join the fray until 2008, years after WBW was in motion. However, it's a great way to get different perspectives on the same topic. It shows that even the experts see grapes differently. Today's topic is Rhone Wines not from Rhone, brought to us by Tim Elliot of Winecast.
As I mentioned, wines made in the Rhone style include Grenache, Syrah and Mourvedre grapes. I could have selected a Grenache from Spain, or a Syrah from California for this article, however I've wanted to write about my dinner and interview with Austin Hope of Hope Family Wines and thought tasting his Liberty School Cuvee was the perfect opportunity. I'll first cover the wine, then a little about Austin and dinner.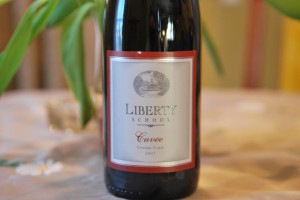 The folks at Liberty School believe that the Central Coast of California is perfect for Rhone varietals. If their 2007 Cuvee is any indication, I say they're right. A cuvee is a blend, and this wine is a blend of Syrah, Petite Sirah, Grenache, Mourvèdre and Viognier. I've often said that I'm not a fan of Syrah from California, as it comes in big and jammy, and I prefer the more restrained, earthy Syrah from France. However, at 13.5% ABV the Liberty School Cuvee is not a big wine, and it's anything but jammy.
I taste the wine at three intervals, right after opened, after 10 minutes of air, and after 30 minutes of air. While it definitely opened and changed, it was fairly consistent throughout. The wine was a dark inky purple, and the cork bottom was almost black. At first, the nose had a very meaty bouquet, with a note of cocoa and spices. It had a great lush mouthfeel, and after 10-30 minutes there were dark berries balanced with some earth and nice leather notes on the palate. When I say leather, I could envision a well polished leather chair in a stately mansion, regal and sophisticated. The wine was definitely dry, though not tannic very tannic. Towards the end I started to taste secondary notes on the finish of spiced cherry pie and smoke, with a finish that lingered. I grabbed this wine at the grocery for $15, and it's definitely a wine to try. We paired this wine with hamburgers, though we could have thrown a variety of grilled, roasted or smoked meats it it successfully.
What I enjoyed most about the wine was how it captured the essence of old world Rhone wines, with a touch of new world finesse and approachability. I've planned on tasting some more Hope family Wines and Libery School Cuvee against some Rhone wines in the near future and compare and contrast. I had taste several Paul Jaboulet Crozes-Hermitage a few weeks back, and while they cost a bit more, I'm interested in the taste profiles as a comparison. I'll be sure to let you know. I'll also let you know more about Paso Robles, home of Liberty School and Hope Family wines, as I'm visiting the area next week.
I hope to catch up with Austin Hope again when in Paso. He's a great guy. very dynamic, and passionate about wine and all that it entails. My interview of Austin turned more into a dinner with a great guy, as the restaurant was too noisy to record our conversation, and we talked too quickly and about too many topics to take notes of any quality. We did, however, cover a few topics that I thought were quite interesting, such as multi-vintage wines and box wine, as well as a hot project that make change the way you look at Paso in the future.
Austin feels that the concept of multi-vintage wines needs to be looked at a bit more closely. He maintains that by using wines of different vintages, winemakers will be able to capture the youth and expressiveness of younger vintages, with the maturity and complexity of older vintages. He believes by doing this, wines will be more approachable upon release, and offer more than any young release wine can. I'm excited to see what he does with this concept. Austin also believes that he can put out a box wine of sufficient quality to carry a Hope Family Wines name. Expect a spring or summer 2011 release of his box, and I will definitely get my hands on it. I expect it to be a very approachable and affordable wine.
As for the last project, well, that one I can't talk about yet. However, when Austin told me about it, I found myself secretly rooting for him to succeed. We'll see soon!
Have you tried a Rhone style wine, whether from France, California or elsewhere? Let me know what you thought!