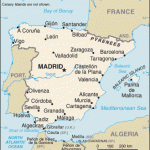 The world of wine is vast, and anyone who tells you they know all about wine is lying or in denial. There is always something new to learn or experience. There is a grape you haven't taste, or a producer and region you haven't explored.  It's easy to drink the wines we know we love, staying in our comfort zone. However, the risk of getting a bottle of wine that doesn't agree with out palate should never outweigh the possibility of taking a new adventure. When Lenn "Devours" Thompson, with Gabriella and Ryan Opaz of Catavino, asked wine bloggers to take on WBW #70: Spain, it was time to taste something new or different.
While there are some 600 grapes grown in Spain, 80% of Spain's wine production comes from only 20 of them, including Garnacha, Tempranillo and Albarino, as well as Xarel-lo, Macabeo and Parellada, the three lesser known grapes that go into Cava, a sparkling wine from Spain. Tempranillo is the focus of Spain's main wine producing regions Rioja and Ribera del Duero, and I've covered those areas in quite a few posts on the site. However, there is a lesser known area that is producing some fantastic Tempranillo which I recently discovered.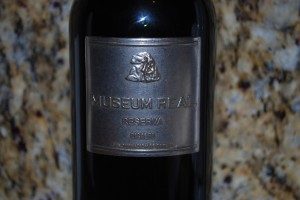 Cigales is a wine region just north of Ribera del Duero, with approximately 2,600 hectares planted in 37 vineyards. Cigales produces about 5 million liters of wine annually, compared to 60 million liters from the 20,500 hectares and 240 vineyards of Ribera del Duero. Founded in the late 1990s, Finca Museum estate is home to about 1200 acres, or about 560 hectares of vineyards in Cigales, nearly half that over 50 years-old. The wine is sourced from old vines from some of the highest hillside vineyards in the Pisuerga Valley of Cigales. These vines have extremely low yields, and along with their age produce a grape with concentrated flavors.
While the Museum Real Reserva 2004 Tempranillo was aged 24 months in new French oak, with the exception of some mild-to-medium tannin, it's barely perceptible in the wine. This wine needs about 30 minutes to decant or aerate, and it will continue to evolve after that. The nose has a very earthy, cherry bouquet, and the palate is light and fruit focused. Dry and tannic, there are notes of rose petals and an earthiness that elude to a Barolo. There is a medium acidity on the finish, and it's definitely a food friendly wine. We paired this with a chicken marsala dish, and the two were very complimentary.  For about $25, this is a wine that I'd say is on your must try list.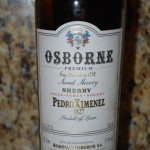 To finish the night, I opened a bottle of Sherry I've had in the closet for a few weeks. Sherry comes in many styles, from dry to sweet, and this bottle of Sweet Sherry was left over from a mushroom soup recipe I made in December. I can, and will devote an entire post or two to Sherry, however I'll give you the quick and dirty of what was in the glass. A thick and heavy palate, there are sweet plums and raisins on the palate. After a short while, it opens into a warm, luxurious palate, with an everlasting finish. There are notes of walnuts and raisins that permeate the air and coat the palate. I've been told that aside from sipping on it's own, a sweet sherry like the Osborne Pedro Ximenez goes well over vanilla ice cream.
I've only touched the surface on Spain, and this is the first Tempranillo from Cigales I've had. However, it's markedly different from those I've had from Rioja and Ribera del Duero. Even the newer, more fruit focused Rioja wines are not as soft and elegant as the Museum Real Reserva was. They typically are much more earthy and tannic, though that may be their intended style. I intend on doing a little more tasting and comparing, and I'll share with you in the future.  What else would you like to know about Spanish wines? I'd love to help make Spain more approachable, and your next wine adventure.