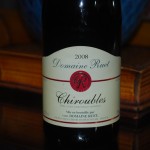 I had mixed emotions when I saw Frank from Drink What You Likeannounce that Wine Blogging Wednesday 68′s topic would be "Got Gamay"! While I am a huge fan of Wine Blogging Wednesday, an idea started in 2004 by Lenn Thompson from New York Cork Report to help bring wine bloggers together on one united topic monthly, Gamay really is not my favorite grape. However, I approached the topic from an educational standpoint, hoping to help at least one person understand not only what wines Gamay will produce, but help them identify where it can come from and what to expect. To do so, I popped open a bottle of Cru Beaujolais from Domaine Ruet ($17), and did this short wine tasting and discussion.
As I pointed out in my Gamay discussion, the grape is most commonly recognized when it comes from Beaujolais, an AOC or appellation in France. There are several different areas within Beaujolais that produce wines of varying quality. The first level,  Beaujolais, produces the most Gamay wine, most which is bottled as Beaujolais Nouveau. Beaujolais Nouveau is that marketing ploy developed in the 1980s, where young Gamay is bottled and distributed quickly as a light, overy fruity, almost fake wine. I've not tried the past three vintage of BN, and really don't feel like I'm missing out. Beaujolais usually cost around $12. That brings us to the second tier of vineyards, or Beaujolais-Villages. That isn't pronunced Village like like Village People. It's Vih-lah-zges, Anyway, these wines are still light and fruity, but typically a tad more intense and structured. You can find these for about $15. Finally,  the third and highest tier of Beaujolais, Cru Beaujolais, which may cost around $17.
Cru Beaujolais, which is made up of 10 distinct areas as discussed in that other post, and produces a but more refined and intense wine. While Beaujolais is is typically consumed within the year after bottling, and Beaujolais-Villages perhaps within 2 years, Cru Beaujolais often needs a year of aging to be approachable, and can age for 5 to 10 years, depending on the vintage. That brings us to the topic of the post, the Cru Beaujolais from Domaine Ruet – Chiroubles.
The video above touches on the 84 year old Ruet Family estate, which is located on the remarkable terroir of Voujoin in Cercie-en-Beaujolais, at the foot of Mount Brouilly. They produce wines from 6 of the 12 Beaojolais appellations, Brouilly, Morgon, Côte de Brouilly, Régnié,Beaujolais and Beaujolais Villages. I'll leave you to the short video for tasting notes on the wine. I will say two followup comments – it was very nice with the roast chicken, though I found it a tad more dry and tannic than I expected. Finally, it opened up nicely over night, showing a bit more cherry on the nose, and on the palate. I would probably grab another bottle of this and give it a bit to decant, and see how it compares to the pop-and-pour I did in the video.
In retrospect, I owe Frank a big thank you for his Wine Blogging Wednesday 68 topic. While I am not much fonder of Gamay, I enjoyed reviewing, discussing, and trying this wine. It's piqued my curiosity to try their other Cru's, and perhaps a few other Beaujolais in comparison. It's been quite a while, perhaps two years, since I seriously considered Gamay.  Well done Frank!