I am not naive enough that you hadn't been introduced to organic wines or biodynamic wines before we (digitally) met. I'd like to think that after watching my short segment from CBS Daybreak above, and reading the information here, you'll go forward into the wine world a tad more enlightened about the methods the grapes are grown, and wines are made. Three minutes was hardly enough to scratch the surface of this topic, plus tell you about the three fantastic wines I brought on the show, so please read on.
I tend to shy away from marketing hype, and feel all too often people will toss words on labels to influence your buying habits. Make it "Eco Friendly" and suddenly you switch everything from vegetables to dish washing soap, regardless of it being a better product or not. I shied away from organic wines for that reasons, and one other; historically organic wines were lousy.  Whether it was just poor choices on my part, the lack of sulfites to qualify for the organic labeling, or my disposition to the hype, up until a few years ago, I wouldn't consider recommending an organic wine.  Actually, I still rarely recommend organic wines, but rather recommend wines made from organically grown grapes.
For a wine to be labeled an "Organic Wine", it must be made from grapes that are grown organically and have no added sulfites. The sulfites act as a preservative, prohibit fermentation in the bottle, and allow for production of consistent wines over time. The Organic Wine label doesn't mean sulfite free, however.  In fact, all wines contain sulfites, and though most people tell me they have "Red Wine Headaches" from sulfites, white wine contains a slightly higher amount of sulfite than red. It's a natural byproduct of the fermentation process, and can't be eliminated (practically) from wine. Speaking of wine, lets cover those first, then the details on the growing practices.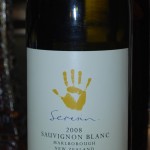 In Marlborough, New Zealand there is a winery making wines via organic and biodynamic principles that rock. The Seresin Estate 2008 Sauvignon Blanc is sourced from their two certified organic vineyards, Home and Tatou, and is made from 95% Sauvignon Blanc and 5% Semillon. I positively disagree with the winemakers tasting notes, who says it displays grass on the nose with chalky mineral complexity. This wine is quite straightforward, taking a tangerine, and sprinkling it with lemon juice. It's bright, flavorful, with a bursting bouquet to match the palate. I think of sunshine in a bottle, and promise you a bottle of this on your spring and summer table, with a few different types of goat cheese will have your guests thinking you're a wine guru! The Seresin Estate 08 Sauvignon Blanc is about $21.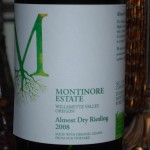 Globe trotting over to the US from New Zealand, we land in Oregon, where we are enjoying Montinore Estate 2008 Almost Dry Riesling. Labeled as grapes organically certified by Stellar Certification Services as well as Demeter Certified Biodynamic grapes, this bottle delivers a wide range of wine experiences. The nose has an incredible petrol scent, laced with sweet apricots. The palate is semi-sweet stone fruit, but crisp, not cloying. It has a medium mouth feel, and also sings when paired with goat cheese, but this wine can be paired with salads, seafood, or drank on it's own quite nicely. This delicious white wine is available for under $15.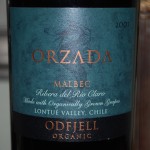 The last leg of our World Wine tasting takes us to Chile, which I've written about often. I firmly believe South America offers some fantastic values on great wines, and think Chile leads that charge. Dan Odfjell, a Norwegian shipping magnate, settled in Chile after falling in love with it, and began planning vineyards about 15 years ago. Odfjell makes a number of different lines on their 85 hectacres, and have vineyards in the Colchagua and Maipo Valley where their Carmenere comes from, as well as organically farmed vineyards in Cauquenes and Curico, where the Orzada Malbec comes from.
Malbec is typically an Argentine grape, but Odfjell does a great job with it. This wine has a bouquet of violets, and a palate of berries with the violets coming through as well. It's a medium mouth feel and dry, while being delightful to just sip as the tannins aren't too firm. Pair the Odfjell Orzada Malbec with some roasted or grilled meats, steaks or lamb chops for example, and it is fantastic. Definitely give this wine a good 30 minutes to decant and open up, or it's a bit jammy on the palate and not it's true potential. You can find the Odfjell Orzada Malbec for about $20.
Now that we've got that out of the way, lets talk about the three types of "green" winemaking, sustainable, organic, and biodynamic.
Kris O'Connor, Executive Director of the Central Coast Vineyard Team pointed out that Sustainable farm practices "look at the whole farm – energy, water quality, habitat, water conservation, integrated pest management & people. Several of these issues aren't necessarily specifically addressed in organic or biodynamic certification standards." Some Central Coast Vineyard Team member vineyards are "Sustainability in Practice" certified, who's wines I've enjoyed and written about such as Hahn Estates, Baileyana-Tangent, and Paraiso Vineyards.
Sustainable winemaking means that growers don't use man-made chemicals to fertilize the vineyards to improve crop results. The growers will use natural fertilizers, composting and other cultivation methods to attract beneficial insects to the vines while feeding the plant. Additionally, sustainable farming practices will enrich the surrounding habitat, such as providing grazing areas for animals away from the vineyards so they don't eat the crops, or restoring  nearby streams or rivers to enhance the entire local ecosystem. There are of course standards to be met, and upheld, to be certified sustainable by organizations such as SIP, much like in organic wine making.
Organic winemaking takes the basic premise of sustainable farming, and goes a step further. Organic vineyard management eliminates the use of not only chemical fertilizer, but any chemical pesticide, herbicide, or fungicide in the growing process. The vineyard will employ natural methods of controlling pests and vine threatening diseases, as well as promoting vine growth and health. However, just because the grapes are grown organically does not allow a wine to be labeled as organic. As I mentioned previously, the wine can have no added sulfites in addition to having organically farmed grapes to earn the "Organic Wine" label. Additionally, many wines will be produced organically, but not mention it on the label. Rather, they just let the quality of their wine speak for itself. There was an interesting piece on wines labeled as Organic, or Eco-Friendly, which sell for less.
Biodynamic winemaking takes sustainable, and organic farming to the next level. That next level does include a little bit of voodoo and witchcraft, with burying a cow horn full of cow manure on the Autumn equinox, and digging it up six months later on the Spring equinox to spread the contents in the vineyard. No, really. Biodynamic farming has it's roots back in the lectures given by Rudolf Steiner in the 1920s. Quite a complex science and way of thinking, I can only summarize the biodynamic farming ideology by saying that it takes into account the spiritual forces of earth, animal, plants and brings them in line through a holistic, and natural approach to keeping them all healthy and in sync.
The crux of the methodology is the vineyard is a living system that is closed, and self-sustaining. It shares many of the attributes of organic farming; no pesticides, herbicides, fungicides, chemical fertilizers or other chemical preparations in the earth or vine.  Grapes are harvested by hand, and much if not all of the vineyard work is done manually without the use of powered machines. It then takes into account the rhythm of the universe, such as the use nine types of preparations to dynamize soil quality and stimulate plant life. The preparations are a mixture of extracts from minerals, plants, or animal manure. Furthermore, the farmers only sow and reap harvests according to principles they believe control the cosmos. For instance, wine is only racked under a new moon because sediment is at its most compact at this time. The tidal pull of a full moon causes it to puff up, insiders say. I could go on forever, talking about wines that are Demeter certified Biodynamic and what that means, but I think we've gotten the jist of it all.
What do you think about organic, biodynamic and sustainable wines? Do they impact your buying decisions? Now that you know about the differences, will it impact your buying decisions? Leave a comment below, I'll be sure to reply, and possibly follow up via email! Cheers!