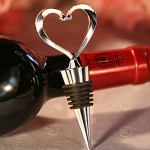 Many guys will admit they're not the best when it comes to figuring out what women want. Perhaps it's because women are complex beings, requiring careful time and study, and men aren't that patient. Or perhaps it's because men are selfish, hedonistic animals who really only care about their own needs. To help my brethren out this Valentines Day, I'm going to offer three wine suggestions that will make it seem like they understand what their ladies want, all without investing too much time, or too much money. My theme for this year's Valentines Day wine choices is "Think Pink", great Rose wines, one a sexy sparkler, that wont break your bank!
Now, I must admit, I had a little help to select these wines. Robin, my better half, made no bones about loving the color pink. My first clue was "Can I paint the house pink", followed by an onslaught of pink clothes and accessories showing up on her side of the room.  However, the real giveaway was our being at a Champagne event, and her gushing "Ohh, I love pink champagne." Ding ding, clue number one just dropped, go pick it up boys. Now, Robin didn't actually help me make the selections, but for some reason, I knew she'd love them. We started off with a Sparkling wine from South Africa, Graham Beck's Brut Sparking Rose – NV, from Robertson SA. Retailing at only $14, this wine delivers nice quality at a great price.
This light and crisp bubbly had a very nice, pale pink hue in the glass. It's made from 58% Chardonnay and 42% Pinot Noir grapes, in the Cap Classique method, where the wine undergoes a second fermentation in the bottle.  This is of course the same method used to make Champagne, the  méthode Champenoise, and is the term used in South Africa since 1992 to denote the traditional time-honoured method of making the sparkler.  Right out of the bottle, there were strawberry fruit flavors up front, with a finish of minerals that is refreshing in a Brut (dry) sparkler. There were tons of bubbles, and it was definitely the perfect way to start off our evening. Giving this bubbly a few minutes to open up is a nice idea, because the minerals and almost tart finish blows off, and you're enjoying nice round red fruit that is well balanced and fun.  You can serve the Graham Beck Brute Rose NV bubbly with seafood, or even rare beef or lamb, and of course the traditional strawberries will be a smash hit!
If bubbles aren't your thing, lets hop from South Africa to Provence, France and enjoy a glass of Saint Andre de Figuiere 2008 Rose Magali Cuvee. That's certainly a mouthful, especially if your French is as bad as mine! However, it's worth butchering the name, or saying Saint ANdre Rose if you must, to enjoy this crisp Valentines Day wine. Half of the rose wine made in France comes from Provence, and at $16 this blend of Cinsault, Syrah, Cabernet Sauvignon and Grenache is sure to delight. It's salmon-pink color gives way to a bouquet of sweet, ripe raspberries. It has a soft palate, very light and crisp with fresh fruit of citrus and red berries, and some beautiful minerality on the finish. Dry and well balanced, this rose will go well with a host of foods, from chicken to fish, or just sipping with a nice cheese plate.
Bubbles didn't blow her away, and dry French wine not her thing, well then lets pop over to the United States, and try a Rose from Oregon! R Stuart & Co's Big Fire line has a number of nice wines at good prices, and their $12 Big Fire Rose is no exception. A darker shade of pink than the previous two wines, the Big Fire Rose has some cherry scents on the nose, but it wasn't a very fragrant bouquet. However, the palate was definitely bursting with fruit, strawberry up front, with a medium body that bursts with flavor. There's definitely some red cherry and other bright fruit on the wine, and the fruit flavors last an incredibly long time.  The Big Fire Rose is a blend of Pinot Noir, Syrah, and Pinot Gris, each grape bringing it's unique and interesting characteristic to the blend. Definitely a fruit forward wine, you could enjoy this with a lighter dish, whether it's a salad, or some simple grilled chicken.
Let me know what wine you have on this Valentines Day, and how you enjoy it. If it's one of the three discussed here, let me know how you like it. And Ladies, don't be shy! If you want to be sure you enjoy the wine you drink on Valentines Day, select one of these and just tell him to open and pour like a good man should!  Cheers!
You can watch my appearance on CBS12 WPEC talking about these great wines with Daybreak News Anchor Kara Kostanich!