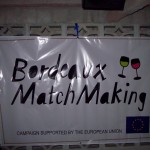 In addition to introducing you to new grapes to try in 2010, I'd like to help make wine more fun and approachable. A great opportunity to do that was the wine event I went to in Miami, where the wineries of Bordeaux were showcasing delicious wines that were great for every day. I hope the below write up helps take some of your fear of France away.
It was a dark and stormy night. No, really, it was probably the worst storm in 2009, but nothing would keep me from making the trip from West Palm Beach to Miami. The almost two hour drive during a torrential downpour was worth it, as I was on my way to one of the most hottest parties of the year. Part of the "Life Goes Better with Bordeaux" campaign, an effort to educate people on the quality and value associated with wines from Bordeaux, France, this event was going to be spectacular.
Trying to break the perception that Bordeaux wines are expensive and elitist in nature, the CIVB along with French Tuesdays connected with over 300 people in the South Florida area to participate in the Bordeaux Matchmaking event. The event was to feature wines that were available locally, and all under $25, helping teach people that delicious wines from France are also affordable, if they know what to look for. I signed up online the day before the event, which included visiting the Bordeaux Matchmaking site and filling out a questionnaire about my wine preferences. When I arrived at the wine tasting and party, held Miami Beach's Hotel Fountainebleau for the 7:30 start time, other guests were already inside enjoying the event and the line was about 10 people long to check in. After check in, which included getting some swag promoting Bordeaux, I walked into Blade restaurant with my four tasting tickets in hand, ready to try some wine.
Mingling among the young and hip crowd, I felt a little out of place with my camera bag and camcorder. I decided to put my camcorder away because the event was too dark to video anything worth watching, and just walked around to get a feel for the room. The crowd was definitely heavy on the 21-30 range, though in Miami Beach, it's often hard to tell the 50 year olds from the 30 year olds. Casual Chic may have been the suggested dress code, but there were people dressed in their party best, and the crowd could have been mistaken for extras in a movie. I chatted with a few people while walking around, asking if they were wine lovers, how they heard of the event, and which wines they were enjoying. Everyone was very friendly, and was having an incredible time; there was no shortage of energy and enthusiasm. Many of the folks heard about the event from attending other French Tuesdays events, while others heard about it via the social media network "A Small World", and a few by visiting Miami.com, which had the event posted online. Everyone had their glass in hand, and were enjoying the complimentary hors d'oeuvres, swaying to the music, and having fun. Now and again live performers came around and complimented the music being played, it was really a rockin' scene!
Surveying the tasting room, there were 10 tables, each with 4 wines from Bordeaux. The wines ranged from $10 to $25, and were broken up by the types of wines they represent, dry, sweet, earthy, etc. Some of the wines appeared on multiple tables, as they crossed over in style, so perhaps there were a total of 10 different wines. Table one, for example, was light, fruit driven wines such as Mouton Cadet Sauvignon Blanc, Clarendelle white, Chateau Bonnet Blanc, and Clarendelle Rose. Table ten, by contrast, had the Clarendelle Rose, Cheateau Preuillac Medoc, Mouton Cadet Bordeaux Blend and Clarendelle white. I was assigned to Table 9, which, based on my responses to the online questionnaire, was a mixture of whites and reds that were more dry and earthy in style. I had sampled three of the wines before, which included the Chateau Bonnet Sauvignon Blanc and Chateau Greysac Medoc – Cru Bourgeis. I took a glass of the Clarendelle Rose, which is a wine I hadn't tried in the past.
Part of the Clarence Dillon Wines family, which since 1934 has owned one of the five first growth vineyards, Haut-Brion, the Clarendelle rose was delicious and refreshing, with notes of strawberry and a little citrus. I managed to try some wines from other tables, and I was remarkably impressed with the Barton & Gustier Medoc, a $10 red wine that offered great expression of dark fruit with a nice earth and mild spice finish that was quite long. However, my favorite Bordeaux wine of the evening was the Chateau Preuillac Medoc, an old world wine with red fruits and firm tannins that would have gone fabulously with the pass around bites at the event. I only had the opportunity to try the salmon mousse with caviar, and it was incredible. It was also a favorite among the group of people I was chatting with, strategically positioned where the bites came out of the kitchen.
The crowd started to get going by the 9:30 switch from a wine tasting to a dance party. While the tables were still pouring delicious wines, everyone was more focused on the music and dancing. Sadly, that was my cue to leave, as I had a two hour drive back to West Palm Beach, and knew if I didn't peel myself away from the fun when it was early, I would hate myself in the morning. I am quite sure people danced well into the wee hours of the night, talking about the delicious, yet affordable Bordeaux wines they just enjoyed. As always, I'm quite sure it was a good time with wine. What about you? What Bordeaux wines are you drinking? If you could recommend one to someone who hasn't had Bordeaux before, which would it be?