I love sharing great wine information with anyone who's interested. Today I was on CBS 12, WPEC, in West Palm Beach, and spoke about four wines that I think work for almost any holiday party.  While we only covered two of the four wines on the segment, I'll tell you about all four right now.
First up was Gougenheim Chardonnay, from Mendoza, Argentina. This delicious white wine costs less than $9, and is versatile enough to go with a range of appetizers, as well as a holiday ham, seafood or chicken. It's light, fruit driven flavor will go well with most anything you serve. A lightly oaked white wine, the pear and apple fruit flavors show nicely, and are balanced with just a hint of toast and spice from the oak aging.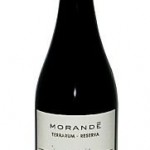 The second wine I discussed in the segment was also from South America, specifically from Chile. I'm a big fan of South American wines, and feel they offer great quality at serious values. Morande Reserva Pinot Noir, which is under $12, is quite possibly one of the most enjoyable Pinot Noir's you'll drink at the price. Morande has many lines of wines, but I've found the Reserva offers the best quality at the best price. Delicious red fruits with cocoa aroma on the nose, this medium bodied wine has a great balance of cherry and strawberry fruit and earthy smoke notes.  This wine makes it's way to your party either as an easy drinking red wine during appetizers, or during the main course with a host of foods. Salmon and Pinot Noir is a classic pairing, but this will go well with roasted meats, game birds, or just sipping alone or with appetizers.
An alternative white wine to serve this holiday season is Elena Walch's Gewurztraminer. Ripe stone fruits, nectarines and peaches, dominate the nose and the palate of this crisp wine. There are also floral notes, honeysuckle and clematis, that waft up from the glass and tempt your nose. However, don't expect only fruit in the glass, the finish is long and lingering with flavors of baking spice that balance out the sweeter fruit flavors. Typically paired with spicy foods, I enjoy pairing Gewurtz with pork roasts, honey baked hams, smoked cheeses or meats and turkey.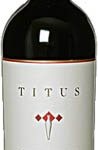 The last wine I brought to the television show was Titus 2006 Cabernet Sauvignon. I am a big fan of Titus wines, and visited the vineyards back in September with another television show. Napa Cab's can run upwards of $100, so this delicious red wine offers the flavor and quality at only $40. A big wine, Titus Cabernet Sauvignon offers dark cherry flavors, with layers of earth and tobacco, and spice and cocoa notes as well.  Allow this wine to breathe for 40-60 minutes, or more depending on your preferences, then pair it with your meat dishes. I've served this wine with prime rib and roasted lamb, and it's a crowd pleaser each time.
Here's the clip from the show, CBS Daybreak. It aired Sunday December 13th, 2009.
I'll be back on the set of CBS 12 – WPEC West Palm Beach, right after New Years, and talking about … well, tune in and find out!