Just a hop, skip and mountain or two away from the three wineries I visited in Dry Creek Valley, Sonoma lies Napa Valley. This time, my travels took me specifically to St. Helena, and my first stop was Hartwell Vineyard and Winery.  With a history of producing wine that in 2005 was given a 95 point rating by Wine Spectator, I was sure the Hartwell family would not only wow us with their wines, but offer a great visit. I was right.
We met with Linda LaPonza, Hartwell's General Manager, and daughter of proprietors Bob and Blanca Hartwell, who provided us with not only a rich history of Hartwell, but a fabulous tour of their estate and tasting  of their wines. Linda also introduced us to Hartwell's winemaker Benoit Touquette, who discussed the process of making their fantastic wine. I particularly enjoyed the discussion of their oak aging the Sauvignon Blanc, when many people age in stainless steel vats.
We started the visit off watching a test of a new berry sorter, which worked based on computerized specifications to select the perfect grape. This test was just one part of the technology Hartwell employs to create fantastic wine.  A tour of the winery introduced us to the ceramic egg shaped vats that Hartwell recently installed. My understanding, which of course is limited, is the egg shape causes the wine to constantly be moving around in the vat, so that pump overs are less frequent. A pump over is the process to circulate fermenting juice of red wines from the bottom of the tank over the skin cap that forms during fermentation to ensure optimal extraction of color and flavor and prevent bacterial spoilage. Hartwell does also have several regular vats, and Benoit was doing a pump over and punch down while we chatted.
The last part of wine geekery I'll mention is the racks that Hartwell uses. I believe they were called oxo racks, but that could be wrong. These racks allow the barrels to be turned during the aging process using rollers, rather than having to lift and turn the racks using brute force.  All of these advancements in wine making technology are used by Hartwell to continue to make delicious wines for you to enjoy. So, lets go to the video of my tasting the Hartwell Estate Reserve 2006 Cabernet Sauvignon.
Hartwell Vineyards 2006 Estate Reserve Cabernet Sauvignon from Matthew Scott Horbund on Vimeo.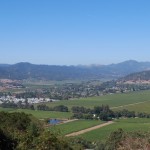 The Hartwell Tasting Room manager gave us a phenomenal walk through of the wines, food pairings, and made the experience quite elegant. He advised that when you plan on visiting, call for availability and reservation. You can reach Hartwell toll free at (800) 366-6516 to find out about tours, tastings and options.
After the tasting, Linda took us on a tour of the estate. I was enamored with the beautiful views from the hill atop which Hartwell is perched. Linda's ability to make the land come alive, as she grew up on it, was spectacular. We had the opportunity to see where Bob and Blanca Hartwell live on the estate, as well as drive around the water reservoir, and through the vineyards.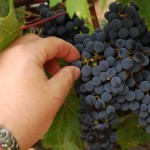 No visit to a winery would be complete without walking through the grape vines. I've had the opportunity to visit vineyards during winter, when the leaves (canopy) are cut back and only the vine itself is there to see, and it's a wonderful visit. However, being able to pluck a grape from the vine,during harvest of course, and taste the fruit as always a special treat. I would say there's never a bad time to visit a winery, but the best time is definitely harvest in my mind. Of course, there's something to be said of the gorgeous colors you'll see on the grape leaves after harvest, during autumn. So what are you waiting for, get on the phone and call the great folks at Hartwell. I assure you, it'll be a good time with wine.