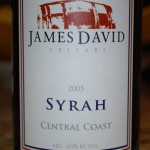 I absolutely love the tremendous amount of variety and diversity there is in the wine world. I love how the same grape, grown in the same area, perhaps even at neighboring vineyards, can taste so different.  The influence of the methods the winemaker uses to ferment and age the wine as well as the care and growing conditions the vineyard manager employs can change your perception of a varietal magically. I haven't reviewed many Syrahs on the blog, and the ones I did review previously really didn't trip my trigger, so to speak. It was, therefore, with a tad of reluctance that I accepted a sample of James David Cellars 2005 Syrah from proprietor David Cole, whom I networked with on twitter. I am happy to say that my excited video review is indeed an indication that James David Cellars put out some nice new world Syrah.
Though their family has been in the California farming and wine industry for some time, David and Kathleen Cole have only been at the helm of James David Cellars for a few years. However, their goal to create a wine that is easy to share with friends and family, good during a meal, or a good conversation, seems to be one they've already achieved with the Central Coast Syrah. A blend of grapes sourced from two vineyards, one in Monterey, the other in Paso Robles, only 350 cases of this easy drinking red wine were produced. Grapes from both Paso Robles and Monetery are said to exhibit true characteristics of the varietals. Grapevines there tend to bud a week or two earlier than other regions, and are harvested a week or two later than other regions due to the cool growing season. This means the grapes are on the vine longer, and develop an intense flavor.  Wines from these areas tend to have the peppery characteristics you find in Syrah from France (or Shiraz from Australia), and I enjoyed that very much on this wine.
I chatted briefly with David about this wine, and he said that his favorite food pairings for the James David Cellars Central Coast Syrah would be pizza, or red sauce dishes like lasagna or spaghetti. Thea, a follow wine blogger and friend, agrees with David that this is a nice pizza wine. I'm not sure if $21 is in everyone's budget for a pizza wine, and I think this wine is a tad more versitle than that. The pork roast that Robin made in the crock pot went very well with it, as would a nice salmon dish. The wine is light enough that it would pair favorably with the fish, and even chicken. Yes, I'm debunking the myth that chicken and fish only go with white wines!  I'm not sure how this Syrah will pair with a steak or lamb. David Cole mentioned that of the two samples he sent, this and the Eagle Point Ranch Syrah, the Central Coast  wine was more "French style" with a lighter nose and body than it's big Californian brother. I've decided to review them separately, so check back soon for that Eaglepoint Ranch review.
In summary, for $21, I am happy to recommend you try the James David Cellars Central Coast Syrah. It's well structured and versitle enough to pair with a decent range of foods. It also is easy drinking, and will do fine on it's own, helping David and Kathleen achieve their goal of creating a wine that compliments conversation, as well as drive it. I believe this wine appeals to the "Old World" Syrah lovers, while still having some of the characteristics the "New World" Syrah lovers look for.  However, don't just take my word for it. Find yourself a bottle of this wine, pour yourself a glass, and leave some comments below about your experience!
-Disclaimer- This wine was provided as a free sample from James David Cellars for me to review on the blog.