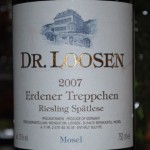 With October just finished, and people already planning their 2010 Oktoberfest parties, I thought it would be a great time to review a German Riesling. If you haven't had a Riesling before, or only have had Rieslings from California or Washington, I recommend you find and enjoy a German one soon. There are many great Riesling producers in the Mosel region of Germany, or Mosel-Saar-Ruwer as it was previously named. I've reviewed this wine's cousin before, another Riesling from the same producer, but this one is a bit more elegant and refined. I'm talking about Dr Loosen 2007 Riesling Spatlese from the Erdener Treppchen vineyard in Mosel, Germany.
Video review of Dr Loosen Erdener Treppchen Riesling Spatlese from Matthew Scott Horbund on Vimeo.
The wines produced by Dr Loosen come from various vineyards, which impart their characteristics on the wine. The Dr Loosen Dr L Riesling is actually made from grapes purchased from other growers in the region. However, the wine we're discussing today is produced from all estate grapes,  grown in the Erdener Treppchen vineyards, the little staircase of Erden vineyards, as the name translates. The E.T. vineyard is comprised of iron rich red slate soil, which creates rich, complex wines and imparts the mineral qualities I describe in the video. This wine is described on the Dr Loosen website as more muscular and rugged, where as wines from their blue slate vineyards of Wehlener Sonnenuhr are described as more graceful, like a ballerina.
Muscular and rugged or not, this wine was delicious. The nose has that petrol scent that is often associated with quality German Rieslings. However, underneath that scent is super ripe apricot and honey suckle, waiting to be savored.  From your first sip, this lush wine has a medium weight to it, and an elegant mouth feel. It's bursting with flavors of dried apricot, peaches and honey, balanced with nice acidity. It's certainly a bit young, and will develop in the bottle, if you have the patience to let it age. The Wine Spectator gave this wine 91 points, and said
Bright and tangy, like a brass band. The lime and peach notes gather force thanks to a vibrant, well-integrated acidity. There's also a touch of vanilla cream and mineral. Drink now through 2032. 250 cases imported. –BS
I could see this wine ending up on many Thanksgiving tables. As I mentioned in the video, friends wanted something to go with their Cajun Deep Fried turkey they plan to make this Holiday season. We're fairly sure they'll go with this selection, which they purchased from Zsazsa and Company, a virtual wine store serving Florida since 2008.  It will not only go well with their turkey choice, but I see it going well with any ham you put on the holiday table, as well as pairing nicely with the cheese platter you put out before the meal.  This wine is versatile, and can be on your table throughout the whole meal, playing nicely with fresh fruit for dessert.
I know that a lot of people haven't had Rieslings, and would love to hear what you think once you pick up a bottle. If you've been following me on twitter, you may have seen my tweets regarding the Wines of Germany virtual wine tasting events throughout October. If you took part in that, or have had some German Riesling on your own, why not let everyone know what you think of them by leaving a comment below.