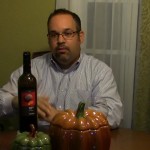 I've had a hard time writing this wine review for several reasons. My opinion of this wine disagrees with both Wine Spectator and Wine Advocate reviews. Now, I don't mean to suggest that WA and WS are the end-all-be-all of wine information, but it causes me to pause and reflect on the wine. I often hesitate to recommend a wine that isn't varietally correct, because I know some wine geek out there will blast me for it. However, Robin's opinion of this wine was identical to mine, so without further ado, lets talk about Marco Real Garnacha from Navarra, Spain.
Garnacha, which is called Grenache when it comes from areas outside of Spain, such as France or the US, is a very widely planted red wine grape. It usually produces wine that has dark berry fruit flavors, and a great backbone of pepper and spice that make it a very enjoyable red wine, in my opinion. It's a red wine I love on it's own, or paired with steak, lamb, or cheeses, and have served at dinner parties frequently.  When I was offered the chance to try the Marco Real 2005 Garnacha from Navarra, Spain, I jumped at the opportunity. To find out what I thought of this wine, watch the short video review, then continue on to see my summary of the wine.
Red Wine From Navarra Spain – Marco Real – Garnacha from Matthew Scott Horbund on Vimeo.
As you can see, the issue I had writing this review is is not if this is a good wine. For the price, which is a suggested retail of about $11, it's an easy drinking, nice red wine. However, if you're looking for varietally correct, where the dark berries give way to pepper notes on the palate, this is not the wine for you. This is more of a jammy, berry focused wine that is very easy to drink, a nice evening back-porch sipper. I think it would be great with food, and had it with ravioli with a red marinara sauce, and it went very nicely. As a matter of fact, I purchased quite a bit of this wine from Zsazsa and Company, and plan on having it with friends over pizza soon.
Wine Spectator gave this wine an 86, and Wine Advocate gave it an 88. Both reviewers noted the spice, typical of Garnacha, which I felt was lacking.  Now, you're asking, "Matt, what does that mean?" It means if you're looking for a perfect bottle of Garnacha, this isn't it. I'll work on finding one for you! However, if you're looking for an easy drinking red, one to sip alone or with food, then for $11, you can't go wrong with this wine.  I plan on opening a bottle of this wine over the next few days, and re-tasting it. I also plan on reviewing a slightly more expensive California Grenache, and seeing how the two compare.
I'd love to hear your thoughts! Leave a comment below and let me know if you've had Garnacha, or Grenache, lately. If so, what did you like, or not like about it? Have you had the Marco Real, and if so what was your opinion.  I'll update this post when I re-try the wine with other foods, so check back often.