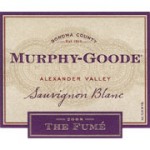 Writers of all types experience "writers block" now and again. Wine bloggers are no different, despite the fact that there are thousands of different wines to discuss, no less the myriad of related topics to write about. However, we have the added inspiration of Wine Blogging Wednesday, the brainchild of Lenn Thompson from Lenn Devours – The New York Cork Report. Each month, wine bloggers converge on one topic, writing about the month's wine related theme. Lenn has managed to enlist the help of wine bloggers around the world for topic ideas, which has allowed WBW to enter it's 62nd month with today's installment. This month Dale Cruse from Drinks Are On Me challenges us to try a grape by any other name.
Grapes often have different names depending on region in which they grow. Additionally, the grape could have the same name, but it's labled based on where the wine is produced. I decided to talk about Sauvignon Blanc, and the stark contrast between wines made from the grape in California versus Sancerre, an AOC in the Loire Valley, France. It was not hard for me to select the wines for today's post. I happened to have on hand a bottle of Lucien Crochet Sancerre 2007 sitting next to a bottle of Murphe-Goode The Fume 2008 in my wine cellar.
While it would have been a fun adventure to find some Italian Primitivo and talk about it in relation to Zinfandel, I was very excited to talk about the way Sauvignon Blanc makes different styles of wine from France to California. Watch the short video below, then read on about Sancerre and Sauvignon Blanc.
Sancerre is Sauvignon Blanc, or is it? Wine Blogging Wednesday #62 from Matthew Scott Horbund on Vimeo.
Now there are Sauvignon Blanc wines that come from all over the world, with great ones coming from New Zealand and Chile, as well as these from California and France. Sancerre, in the eastern part of the Loire Valley, France, is an AOC, Appellation d'origine contrôlée, produces very distinct wines. The terroir, characteristics of the earth the grapes are grown on, greatly influences the wine made there. I highly recommend you experiment with the different styles out there, to find out which you prefer. As you saw from the video, the same grape can produce a very different experience.
I think both of these wines have their merits. Your palate may prefer the lighter, easier drinking Sauvignon Blanc from Murphy-Goode, as my Fiancee Robin did. She preferred it to the Sancerre, liking it's "easy sipping at a low price" quality. I, on the other hand, enjoyed the chalky, herbaceous flavors of the Lucien Crochet, especially when I thought about it with food. I think that may be the point to make, that the California expression of this grape is an easy drinking back yard sipper, fine on its own. The French Sancerre, however, is a wine that really shows best with food to help marry it's unique flavors with the foods. I would certainly reach for a California or New Zealand Sauvignon Blanc for sipping and catching up with friends before a Sancerre. However, if I was serving a nice seafood dinner, the Sancerre could be my preference for the evening.
Don't take my word for it, buy a Sancerre and a California Sauvignon Blanc, and try them together. Then, leave a comment below and let me know which you prefer, and why!