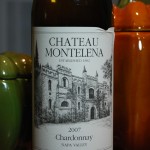 These days, most people are on a budget, and watch their spending closely. And while very few of my friends cut wine out of their monthly expenses, they always ask me to find good, budget friendly wines for them to enjoy. However, it's my opinion that now and then, it's ok to splurge and treat yourself, so long as you do it in moderation. For Robin & I, that day came last week when we opened up a bottle of Chateau Montelena Chardonnay from Napa, CA. It's not what I would call a Budget Wine, but rather a wine for a nice occasion. For us, that occasion was celebrating the end of a work week!
If you've seen the movie Bottle Shock you know the impact Chateau Montelena had on the wine world in 1976. The movie definitely endears you to the struggle California wine makers had, and have, gaining respect for the hard work and love that goes into each bottle. It also will make you want to run out and buy a bottle of Chateau Montelena, whether you've had it in the past or not. For us, this Chardonnay was not our first experience with their wines. We had a bottle of their Zinfandel with a lovely dinner out in West Palm Beach a few months ago, and their Cab some time prior to that. However, we did indeed go out and buy a bottle of the Chard days after seeing the movie, and kept it in the back of the wine cellar for a while. However, the time came to open, and enjoy it. Of course, I'd like to share this wine with you, so please watch the short two minute video, then scroll down to read more of my thoughts on this wine.
Tasting Chateau Montelena 2007 Chardonnay from Matthew Scott Horbund on Vimeo.
I actually misspoke on the video and said that oak aging typically gives Chardonnay a buttery mouth feel. It's actually the malolactic fermentation that gives it that lush mouth feel. The oak aging can, however, impart notes of toast, spice, and vanilla, for example. The Chateau Montelena Chardonnay spends eight to nine months in oak. However, the oak influence is beautiful, not overwhelming the flavors of fruit.
The wine was wonderful, and we enjoyed it very much. Frankly, I think we drank it too quickly, and needed to take some more time with this wine. The wine evolved over the hour we ate, and I feel we missed some of the changes it went through. I plan on getting a second bottle soon, with the expectation of sipping it, slowly, and really taking care to see how it changes sip to sip. The subtle oak aging provides Chateau Montelena's Chardonnay with complex layers of flavor, from the tropical notes I mentioned before to subtle hints of vanilla and spice. There's a nice balance of acidity and fruit, and this is a crisp, and delicious, white wine.
I mentioned a food pairing in the video, and we paired this with Fettuccine Alfredo topped with shrimp. While it was a "nice enough" pairing, it was by no means perfect. Frankly, the beautiful tropical flavors the Chateau Montelena Chardonnay offers would have gone much better with a grilled chicken or fish dish. The fish could have been grilled sea bass or grilled salmon, as either would have paired with this wine wonderfully. Likewise, a simple grilled chicken, seasoned with nothing but salt and pepper, would have been a spectacular food and wine pairing with this Chardonnay. There are many food and wine pairings that this wine would have worked with, and perhaps we'll make one or two of them in the future, and share our tasting with you.
I must admit I have not yet visited Chateau Montelena. However, as this beautiful Eve Andersson photo illustrates, there is a lot of history and beauty at the winery. I look forward to visiting the Chateau one day soon. The rich history on that land, from the Chateau itself to Jade Lake, would make a great piece for future TweetMeTV segments. I'll have to talk with the folks at Daytime morning show and see about another Napa visit, soon!
Your adventure in wine doesn't need to stop here. You can follow the folks from Chateau Montelena on Twitter. The folks from the movie Bottle Shock are on twitter as well. Of course, you can find me on Twitter or Facebook, and we can continue having a good time with wine. Cheers!