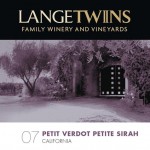 Do you enjoy wine? When was the last time you had a Petit Verdot? How about Petit Sirah? If the answer is anything other than "Last week", watch this video wine review of Lange Twins Family Winery & Vineyards 2007 Generations Petit Verdot Petit Sirah blend. You'll be surprised at how delicious and drinkable this $20 wine is! There's no doubt that this purple teeth stainer will be a wine you look to have again, and again.
The Lange family has been farming in California for 5 generations, starting with Johann and Maria Lange's 1870 immigration from Germany, where they settled down in Lodi. The Langes started their farming history beginning with melons, the crop of choice back then. They moved into farming grapes in 1916, then in 2006 twin brothers Randall and Bradford Lange, Winery General Manager and Viticulture General Manager respectively, founded the Lange Twins winery, and incorporated the winery in their business of grape growing. There are multiple generations of Lange family members working at the Lange Twins Family Winery & Vineyards today, making it a true family business.
Joe Lange provided a bottle of their Generations Petit Verdot Petit Sirah 2007 to me before the summer started as a sample for review. I am grateful to Joe, and Lange Twins Family Winery & Vineyard for the opportunity to taste this wine, and discuss it with you. Please take two minutes to watch the video review below, then read the rest of my tasting notes and comments.
Lange Twins Petit Verdot Petit Sirah Red Wine review from Matthew Scott on Vimeo.
As you can see from the above quick video wine review (you did watch it, right? Seriously, 2 minutes!), this wine falls into the "Drinkable" and almost "Gulpable" category. It's only $20 from the Lange Twins website, and by my measure, that makes it a very affordable, bordering on every day wine price wise. Of course, price is not the only measure of selecting wines, so taste has to be there, and in my opinion, Lange Twins Petit Verdot Petit Sirah has it.
I find this wine very approachable. That means, it's easy to drink, and doesn't require too much care & feeding, or work, to enjoy it. A good friend of mine on twitter mentioned she is not a fan of wines that require a lot of "me" time, and prefers the ability to just open a wine and enjoy it. While I decanted the wine for an hour, I believe this wine would do well as a "Pop and Pour", where you can just open it and drink.
Decanting red wines has two purposes. First, for older wines or perhaps wines that are not filtered, it helps separate the sediment that occurs normally in bottles of wine by allowing them to settle to the bottom of the decanter. Second, it allows younger wines time to "breathe", allowing oxygen to interact with the wine. This can allow the wine to open up, the bouquet and the flavors can show well, and you can enjoy the wine. Some wines may not need any decanting, others may need one, two or even four hours to open up.
As you saw in the video, there was nice fruit on this wine, with just a little hint of baking spice mixed in. I could discern beautiful blueberry flavors mixed in with darker fruit flavors as soon as the wine hit my tongue. It definitely opened up and became even more enjoyable with each minute we drank the wine. Also as mentioned in the video, we paired the wine with steak. It was a great pairing, the delicious grilled steak dancing gracefully with the luscious wine. Sadly, the wine was finished before the steak was gone, which was a testament to how easy drinking the wine was.
This wine definitely plays well with others, pairing it with beef dishes or other gamey dishes (hmm, venison stew or Cornish game hens perhaps) works wonderfully. It also plays well by itself, making it a great sipping wine. Open a bottle of this Lange Twins wine, take your better half, or your best buds, to the back yard or the porch, and watch a great night with a nice wine unfold!