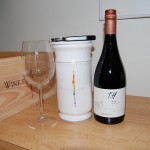 If you've read any of my wine blog posts, you'll know that Camenere was one of the first red wines I had ever had. Therefore, it's always a pleasure to try a Camenere from a producer I haven't had in the past. During the Wines of Chile blogger event, we had the pleasure of trying 8 wines from Chile while video conferenced in with the wine makers to get their insights on their wines, Chile, and wine in general. I have reviewed several of those wines already, and have a few more coming. You'll find my thoughts and tasting notes on the Errazuriz Single Vineyard Carmenere in the video review below. Please be kind when watching it, I was in a hotel room after a full day of Oracle training, and pretty wiped out.
Errazuriz Single Vineyard Carmenere 2007 hails from the Aconcagua Valley of Chile, right around San Felipe, north of Santiago. The Aconcagua river flows through the valley, which provides "melt water" for much needed irrigation in the area. While wine grapes like Cabernet Sauvignon and Carmenere have grown in the valley since the mid 19th Century, there has been renewed interest in the area since the 1990s. Experiements have proven that Aconcagua valley vineyards located closer to the Pacific can provide great grapes, and great wines. Personally, I'm on the look out for some of these wines, especially Syrah which is pointed out in the Wines of Chile brochure that was sent to the bloggers for reference.
Now, it's no secret that I think wines from Chile offer great value, bringing to us nice, or even fantastic wines, at a great price. I've probably written about more Chilean wine on this blog than any other country. At $26 retail, the Errazuriz Single Vineyard Carmenere is not an everyday budget wine for many people. However, I think it's definitely a wine to give a try, if for no other reason than to see what Carmenere is about, and have a nice frame of reference for other producers.
As the video notes, the first night this wine was definitely a lot more fruit driven and didn't have some of the characteristics I love about Carmenere. I felt it was lacking the earthy flavors with a black pepper and spice driven backbone that screams STEAK! I found it very "new worldy". However, I actually REALLY liked it the first night, finding the wine fun and enjoyable. The second night I think it was "done", with too much oxygen breaking down the wine, as notes of cherry cough syrup were dominant, which were not what I found the first night. I would like very much to get another bottle and see how it opens over time, because I believe I didn't really experience the full potential of this wine in the situation I had to taste it.
Check out the video, and let me know what you think by leaving a comment below!