It's common knowledge that buffalo wings and beer go well together. They're a staple in nearly every sports bar in America. What you may not know is the right wine will pair perfectly with hot wings, allowing you to enjoy your next Superbowl party with wine, instead of brews. A well structured, semi sweet wine, such as a Washington or a German Riesling, cuts the heat in spicy food nicely. And while it's no secret that I've been talking about hot foods with Dr Loosen Dr L Riesling a lot recently, I haven't shared with you my Grilled Hot Wings recipe to make that food and wine pairing awesome.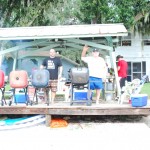 During our lake house vacation this year, we decided to fire up the grills and make some snacks for an early afternoon meal. We had to feed the 15 people with us, and had one grill with oysters on it, another with ribs, and two with my hot buffalo wings. Most everyone has had wings that are fried, and a few of you health conscious wing lovers have had them baked, but you haven't enjoyed them until you've had them grilled. It takes a good hour toiling over hot coals to make this spicy snack, but they absolutely rock, and your guests will thank you for taking the time for them.
This recipe takes about 15 minutes of prep time, between mixing the ingredients below, washing and cutting the wings, and pouring a glass of wine while you get to cooking. You'll end up cooking the wings for about 50 minutes, give or take 15, and it's hands on the whole time. First, you'll want to get your ingredients together
3 pounds of chicken wings – you can separate at the joints or just buy drummetts
1 1/2 cup hot sauce (12 oz) – Louisiana style. I used "Cristal" last time, and Louisiana before
1 cup of Cola soda (8 oz)
1/4 teaspoon of cayenne pepper (little less if you don't want the heat as rockin!)
1/4 teaspoon ground black pepper
I experimented with 4 or 5 different ratios of hot sauce to cola before I was happy. You'll find your "sweet spot" with the mixture and people will RAVE about the wings.  Additionally, I double the sauce recipe because it does reduce down, and I like to make sure the wings are submerged for their time in the sauce.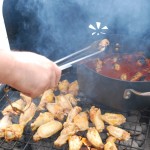 Preheat your grill to a medium heat. I always cook these wings over direct heat, but you may want to set it up indirect.
Using a large dutch oven or sauce pot, mix the ingredients, adding the chicken last. Place the pot to the back corner of the grill and allow the sauce to simmer.
Add wings and let them sit in the simmering sauce for approximately 8-10 minutes. Then using tongs like in the picture, take them out and grill them for 5-8 minutes. turning mid way to avoid burning.  Return the wings to the simmering sauce, which will be reducing and thickening, and allow them to simmer again for 8-10 minutes. Repeat this process 4-6 times until the wings are done. Approximately 50 minutes in all. I usually finish the last 5 minutes in the sauce, to leave them "sloppy". However, you can finish them on the grill for dry wings. (edit note, my family now prefers them dry, and the past two times I finished them on the grill and they were awesome!)
A few edit notes – it's an active recipe, so you really want to watch them cook.  The first time on the grill, you will likely get a char on the wings. Just be sure not to burn them. Most people, even my 10 yr old son, prefer the chared ones, they have a nice flavor.  Also you CAN do the wings in the oven, if you cant grill. Just heat the oven to 350, and simmer the sauce on the stove top, going from oven to pot the same as you would the grill. You wont get the charred and grilled flavors, but they still rock!
You should test a wing before you take them off, making sure it's cooked through, pulls off the bone easily, and if you use a meat thermometer, the temp should be about 170 degrees. Additionally, the USDA says the thighs and wings of poultry should be cooked "until the juices run clear."  I did make these in the oven once, using two cookie sheets in a 350 degree oven while i had the sauce on the burner. It works just as well as the grill, though the taste is a little different, and your stove may get messy!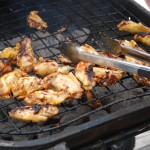 Now, I know this is a wine blog, so why the recipe? Well, as you read before, I'm all about Rieslings with spicy food. When @DolceDebbie and I did the Cabot cheese event, she created these KILLER Habanero Shortbreads using Cabot Hot Habanero Cheese, which I paired with the Dr L Riesling. The sweetness, or the Residual Sugar (RS), helps offset the heat from the food, and really brings out nice, ripe fruit. When we served this at the lake house, we opted for Chateau Ste Michelle 2008 Columbia Valley Riesling which is a nice, value driven wine for this dish. Both Dr Loosen and Chateau Ste Michelle have Riesling in the $10-12 range, which go perfectly with this recipe.  Dr Loosen and Chateau Ste Michelle have a joint venture, Eroica Riesling, which, while a little bit more expensive at around $20, worked just as nicely. The Eroica was rated 91 points by by Wine Spectator and Wine Advocate, and is a great option for a "Grocery Store Wine" if you prefer sweeter, fruit driven whites.
Let me know what you think of the wings. And of course, give the wines I mentioned a try, and let me know what you think of them alone, as well as paired with this dish. I'm confident you'll enjoy as much as we did!