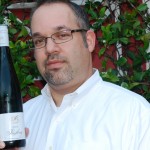 If you follow me on twitter, you know I've been talking up Dr Loosen Wines Dr L 2008 Riesling this week.  It's not because they promised to feature me on their blog, and it's not because I owe them anything. I've paid for the 3 bottles of this sweeter white wine that I drank this week with various groups of people.  It's because for the retail price of about $13, I think it's a great value! It's a well made wine, and something that will appeal to those who like well structured wines as well as those new to wines and are perhaps a bit timid to try different things.
You may know that I offer wine consulting services to Zsazsa and Company, a small Virtual Wine Store serving Florida with a select group of great wines at great prices. Several of their clients were looking for sweeter Rieslings that were well priced.  After tasting 10 different wines, we settled on two for the time being, this one and the Villa Wolf, which I'll review later on.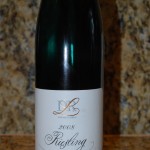 The Dr Loosen Dr L 2008 Riesling comes from the Mosel River area of Germany, just down stream from the village of Bernkastel. While the estate has been in the family for over 200 years, this wine is not made from estate fruit. However, the quality is excellent, especially for the price.  The Loosen Brothers, Ernst and Thomas, work closely with local growers, establishing long term contracts, to ensure the fruit is up to their high standards.
The wine's bouquet is quite inviting, and reminds me of  summer!  Envision bees buzzing around the garden, gathering pollen, kids picking fresh peaches from a tree in the yard, and the summer warmth filling the room. Then, add a mixture of baking spices for making the most amazing dessert with those peaches, setting on a counter with honey suckle scents wafting in from your spring garden. And while the bouquet speaks volumes for this wine, it's palate is quite interesting, starting off as it smells, but finishing a bit different.
When you first sip on the wine, it's an explosion of stone fruits, nectarines and apricots, laced with honey. Then, just as you start to think the wine is TOO sweet, or cloying, it transitions to a phenominally crisp, clean finish laced with the spice from the bouquet that refreshes wonderfuly. The finish is of a nice length, leaving a fresh summer peach flavor in your mouth that beckons you to sip again. The Dr L Riesling has a good mixture of sweet fruit and back end acidity and spice that makes it enjoyable.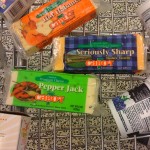 Of course, this wine is a nice summer sipper by itself. However, the Dr L Riesling would also pair quite nicely with spicy foods. For a Riesling, typical food and wine pairings including spicy Thai, Chinese, or Indian foods. I am going to be trying the Cabot Cheese Hot Habanero cheese pictured here and pairing with the Dr L Riesling to see how they mesh. I would also be curious how a dish flavored with some of Michele Northrup's All Natural Hot Sauces would pair, and will be giving those a shot as well!
If you live in Florida, you can order the Dr Loosen Dr L Riesling from Zsazsa and Company, Inc. Just remember heat is wine's enemy, and be sure to elect over night early morning shipping! It's worth the extra cost. Why not leave a comment below and let me know what Rieslings you're drinking now, and what you're pairing them with!  And as  always, have a good time with wine!