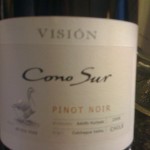 I was quite fortunate to participate in the first ever Wines of Chile blogger tasting event last night.  And while I was not as quick as John, who managed to get a post on the event this morning, I wanted to touch on one important thing about Chilean wine. Chile offers some very nice wine, and some unique varieties, like Carmenere, their signature grape. However, we need to keep in mind that what attracts many people to these wines is the value they offer.
During the tasting last night, moderator Michael Green, Wine & Spirits consultant for Gourmet magazine, took a question from one of the blogger participants. Paraphrasing, he said that the blogger thought the prices were too inexpensive. This set off some conversation that sounded like we would soon see price increases in the future. Katie Pizzuto from Gonzogastronomy said "exactly! Now they're gonna hike up prices" after I had said "nonono .. we arent saying we want them more expensive. we're saying Chile makes GREAT wines @ Great value #winesofchile" regarding Michael's comment.  Further to that, Dave Honig commented that "Hey @mmwine I repeat, GREAT QPR, but only GOOD wine. "
And that is the point that I want to make. While Chile is offering great QPR (Quality to Price ratio), the wines are good. They will perhaps one day be GREAT, and I firmly believe they will. However, I will also, quite honestly, say that if these wines were 30-50% more in price, no less double in price, I would probably find other wines to drink.  While I really enjoyed last night's Cono Sur Pinot Noir, and I love Morande's Pinot Noir at $15 and $12 respectively, I would probably pass on them if the were $25 or $30. Some of last nights wines were approaching the $30 range. And while I enjoyed them, and would recommend them, as well as drink them in the future, they were definitely starting to approach the top end of the QPR segment.
Now, please don't think I am not a fan of Chilean wines. I sincerely am, and one of my TV segments on Daytime TV will feature Morande's Pinot Noir as a great red for summer (or any time, honestly). I just feel it's my duty to bound the rave reviews I, and apparently some of the other bloggers, gave to Chilean wines last night. They're making good wines, and GREAT QPR wines.  That needs to be their focus, at least for now.
What do you think about Chilean wines, and QPR wines in general? I'd love to hear!