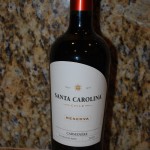 It's no secret that I am having a spring love affair. I'm loving wines from Chile and they're loving me back!  I of course thank Rob Bralow from Wines of Chile for sending me 12 wines to review at my leisure and this wine is one of those wines. Rob made it clear that I was free to discuss whether or not I enjoyed the wines, or not blog about them at all. I appreciate his understanding that there is a chance some of the wines wouldn't be to my liking.
Now, I've mentioned before that while many people start out with easy drinking fruit forward red wines, I went for socks rockin' Chilean Carmenere. I love the body, the intensity and the flavors. So, when I was given a bottle of 2007 Santa Carolina Carmenere Reserva, I was excited to dive into it.  I tried this wine three ways, before decanting, with some pasta, and after decanting. This wine is 85% Carmenere and 15% Cabernet Sauvignon according to the website, or 100% Carmenere according to the downloadable data sheet on the same site, and is aged for 9 months in 1 and 2 year old French and American oak barrels.
Right out of the bottle, the color in the glass was a ruby red on the edges, having a deep blood red in the center. The nose was extremely fragrant, and from 6 or so inches away from my nose, I was getting dried cranberry scents wafting up from the glass. Sampling the bouquet direct from the glass showed a little gamey, with dark red fruits covering something underneath that was trying to poke through.  It could have been spice, but I'm not yet sure.
Without decanting, the palate of the Santa Carolina Carmenere was dry and a little oaky, and there was not a lot of fruit forward. There was a good bit of smoke and spice, on the mid-palate and finish, but it was very short lived.   Tasting the wine with pasta, the palate shows a bit better.  There's some fruit showing now, or the oak is making less of a showing. However, there's definitely still some wood there, and it's more like eating berries with a bit of the branches mixed in.
Now, I'm a proponent of decanting most, if not all red wine. Some, though very few in my experience, are fine "Pop and Pour", where you just open and drink. So, after 40-50 minutes of decanting this red wine, I was curious to see what transformations occured. The nose grew a bit darker in terms of the berries, the gamey scent was gone, but the brambles were definitely showing in the bouquet. It was almost as if someone took a hunk of bark, and used it to mix a berry cocktail. The palate had opened up a little, showing a bit more fruit. Unfortunately this wine was still wielding the oak bat, and beating my mouth up a little. Some sour cherry came into the palate, and the wine had an overall medium mouth feel. If Yoda were talking about this red wine, he'd simply say "The Oak is strong with this one."
Before I write off this wine, let me say that the oak wasn't so overbearing it was undrinkable. Additionally, people LOVE oak nuances in their wine, and those people would probably love this wine. Finally, I feel this wine truly calls for some food to tame it's wild ways. A bit of beef, or even some cheese, would probably be a good start. So, while not a glowing writeup, please remember that everyone's palate is different, and you may absolutely LOVE this wine! The Santa Carolina Carmenere Reserva 2007 retails for about $11, so why not give it a try and let me know what you think.  Leave some comments.
Oh, and for the record, as I wrote this blog post, I drank an AMAZING Chilean Pinot Noir that I'll write about soon. And no, it wasn't a sample from my friend Rob Bralow!