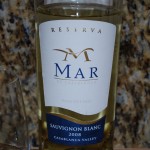 Walking into the house, Robin's first comment was not "Hi Honey" or even "Welcome home". Her first comment of the evening was "This wine is great."  Backing up an hour, Robin called me while I was still at work, asking which wine she should open for the evening. I told her to grab any one of the 10 bottles of Chilean wine still in our wine cellar from the PR folks at "Wines of Chile". She apparently picked the Reserva Sauvignon Blanc from Vina Mar, and was quite glad that she did.
As you my have already noticed, I am definitely a fan of Chilean wines, and believe they offer great value for the price. Last week I did a video wine review of Caliterra Reserva Sauvignon Blanc, also from Chile, and have written about Chilean wines a few other times. This white wine also hails from the Casablanca Valley of Chile, as the previous wines I reviewed did, with the Mar de Casablanca (Or Vina Mar, depending on where you look on the web) winery is 11 miles from the Pacific ocean and 25 miles from the port of Valporaiso. The ocean influence through the valley creates a huge concentration of fruit in the wine, which in my opinion is quite pleasant.
The vinification of the  Mar Reserva Sauvignon Blanc (2008) was 30 days in stainless steel vats, with 2% of the wine aged in a mixture of French and American oak for 4 months. The label says the ABV is 14%, though the winery fact sheet lists it at 13.5% Alcohol by Volume. Either way, the alcohol doesn't show through at all.  All you will find in the bottle is a crisp, clean wine that goes down nicely.
Though it doesn't show well against the background, the color of this wine is nearly clear. I had first poured it against a white table cloth, and honestly thought Robin had finished the bottle and refilled it with water. However, the nose was so fragrant, I knew she hadn't.  There were tremendous amounts of grapefruit on the nose, at the peak of ripeness. Think sweet grapefruit, perhaps with just a hint of sugar sprinkled on top. Surround that grapefruit by flowers, subtle flowers, and you get the nose of this wine. Truly aromatic and magnificent. I could only hope it taste as beautiful as it smelled.
The first sip of this wine was a powerful as Robin's welcome home statement earlier. Tremendously fruit forward, with ripe melon and light citrus notes, this wine danced in my mouth as gracefully as Fred Astaire in all of his movies. The transition to the finish was smooth, and the acid was moderate, but perfect for the wine. The finish went on forever, with passion fruit lingering on long past the last swallow.
We paired this wine with a "Smoked Chicken and Pasta" dish that had a subtle sauce that contained a little bit of tomato basil cream sauce. While I wouldn't say it was a perfect pair, it was quite pleasant. This wine is fantastic on its own, a great summer sipper. It would also pair nicely with a cheese plate, or a host of appetizers. I wouldn't hesitate to serve shrimp or other seafood with it either. Really, it's pretty versatile.  Order this with a nice salad, and you'll have a complete meal.
While I wouldn't say it's a cheap wine, at $16 suggested retail it's an affordable, reasonable white wine that shouldn't be passed by. I think that in the $14-18 price range, this wine stands out nicely. I still have some other samples of Chilean wines to taste and review, but this is one that will definitely make an appearance at a backyard party this summer!