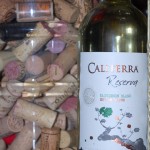 There is no doubt that I feel wines from Chile offer tremendous value. While many of you probably cut your "Red Wine Teeth" on Merlot or Zinfandel as first red wines, I was purchasing Chilean Carmenere two or three times a week when I first started drinking red wine. I always felt that for the money, you got a great wine with complex flavors while being very approachable.  That's why I am very excited that I've got a shipment of 12 different wines from Chile to drink and discuss with you.  The first wine I had was Caliterra's Reserva Sauvignon Blanc 2008, and I'm excited to talk about it!
The name Caliterra is a fusion of words, calidad which means quality and tierra which means land.  Additionally, the winery was a fusion of the Robert G. Mondavi family and Viña Errázuriz, in 1996.  In 2004 Viña Errázuriz acquired the Robert Mondavi family's 50% share in Caliterra, with the goal to craft premium environmentally friendly wines from one of the world's most important winegrowing regions. It looks like the Caliterra Blog is just getting started, but it's one I expect to visit.
Chile is the South American country occupying a long and narrow coastal strip wedged between the Andes mountains and the Pacific Ocean. This wine hails from the Casablanca Valley, which is closer to the Pacific ocean than the Andes, approximately midway between the northern and southern boarders. During the "vegetative period" in the growth cycle, the temperature maxes out at 68 degrees (F) which helps create excellent growing conditions for Sauvignon Blanc and Chardonnay. The US brought in over 6.2 million nine-liter cases of Chilean wine in 2008, making it the 4th largest imported wine in America. Ahead of Chile (in order) are Italy, Australia, and France. The next closest countries are Argentina (3.8 million nine-liter cases) and Spain (3.6 million nine-liter cases).
My tasting notes on this Chilean wine are in the short wine vlog below, but I'd like to make one small comment before you watch it.  It occurred to me that using words like "acid" in describing a wine may cause a negative reaction in someone who's just being introduced to wine.  When I mention the acidity of the wine, please think of the acid you'd find in a pineapple, or citrus. It's not battery acid, at least not in this wine! While some Sauvignon Blanc wines will have bright citrus fruit, the Caliterra definitely has more of a minerality to it than fruit, but it's really nice.  With 13% ABV, it's made of 100% Sauvignon Blanc grapes, the wine is cold fermented and unoaked, aged on yeast lees. It's similar in some respects to the Secreto Sauvignon Blanc, which is also from the Casablanca Valley in Chile.
Chillin with Chile – Caliterra Reserva Sauvignon Blanc from Matthew Scott on Vimeo.
In trying to help you with food and wine pairings, we had the Caliterra Reserva 2008 Sauvignon Blanc with a chicken ceasar salad. It was a nice compliment to the meal, and actually the wine overshadowed the meal.  For about $12 retail, I'd have no problem serving this wine at a summer party. I can see a bucket, brimming with ice, and loaded with this great value wine from Chile in my backyard sometime soon. We'd probably serve cheeses and maybe shrimp cocktail  or grilled shrimp with a citrus/garlic marinade. And you can be sure, everyone would have a good time with wine!