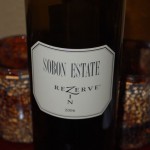 Hopefully you read my blog often, or subscribe to it via RSS.  If that is the case, you probably saw that I've had a hankering for Zinfandel wines lately.  You'll also know that while not bad wines, neither of the wines in that first review really knocked my socks off.  Therefore, it's time to talk about the next Zin, and see how my socks end up after it's reviewed.
Sobon Estate is a winery from which I've had quite a few of their wines. I wrote about their 2006 Viognier, and actually have tried several of their different wines. Leon and Shirley Sobon started this vineyard in 1989 as a 30th anniversary present to themselves.  They started the Shenandoah Vineyards in 1977, and for the Sobon Estate vineyard they purchased the historic D'Agostini Winery, one of the oldest in the state. This winery has been designated a California State Historic Landmark. When people ask me about "Green Wines" or "Organic Wine", I always think of Sobon first. They talk about their values and the sustainable farming practices on their website.  There's no doubt that some of their wines are better than others, so let's talk about the ReZerve Zinfandel.
The color of the wine is a dark garnet, almost mahogany red.  The nose is all about blueberry and fruit, and is really aromatic. The wine has a 14.9% Alcohol By Volume, and the label touts the fact that the wine is made with organically grown grapes, and that the Sobon Estate Winery is Certified Organic by CCOF.  The palate comes across as dark and mysterious, with black fruits prominent.  The wine is aged in American Oak for 16 months, 25% of which was new.  This aging comes through on the palate, and I personally thought it was a tad overwhelming. There is almost a barky, brambles component to the wine, and it is also a tad drier than I expected.
Sadly, my socks are still on as this wine was definitely not what I was expecting or looking forward to. For my palate, the oak comes through a bit too strong, and it really blocked the fruit from coming through. I also think that the finish was lacking, again stepped on from the oak aging.  However, if you're someone who enjoys the results of oak aging in wines, this is definitely a wine for you.  I still enjoy Sobon Estate wines, and will definitely try other wines from them. Their Old Vines Zin is really nice, a bit jammy and raisin like, it's got a nice interesting palate to it. I may buy a bottle of that, and taste it together with this Zinfandel, and see how they compare.