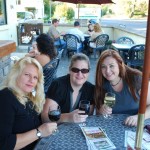 My favorite part of twitter has most certainly been meeting the people that I've connected with there. I have met over a dozen people, from FL to CA, and many points in between. I was even able to fly out to California, meet Jeff Stai from Twisted Oak Winery, enjoy a dinner for the release of their Spaniard wine, meet Thea, Liza and Lynn, and well, just have an amazing time with wine and twitter friends.
I have recently connected with a very dynamic woman, Debbie Frangipane, who is not only a personal trainer, but a chef. In addition to that, Debbie and her husband Barry, organize and take you on fantastic trips to Italy, where they introduce you to the wonder and beauty of Italy, as well as the amazing food and wines you can find there. After a little bit of coordination, Debbie and I decided we'd like to do a joint Food and Wine event, her cooking 3 fabulous Italian courses, and my pairing awesome Italian wines with them.
Debbie has decided on the menu, and then I chose the wines to go with them. As starters Debbie will be preparing both spiced lamb pillows and stuffed mushrooms which will be paired with Paolo Scavino Dolcetto D'Alba 2006. The main course will be Beef Tenderloin braised in Barolo and will be paired with Sant Orsola 2003 Barolo. Our food and wine event will be capped with a dessert of stuffed Peaches (with amaretti/amaretto) will be paired with Sant Orsola Moscato D'Asti. If you aren't a member of Twitter Taste Live, I suggest you sign up, using MMWINE as your referral, and then check out the event page where you can sign up, and track the thread for info as it becomes available.
The event will be a live video stream event, in which I'll discuss the wines, the food and wine pairing, and ask the guests to give their input when they'd like to. Some of our guests are on twitter, and include ChefJerseyGirl, MissAttitude, RebekahReidy, TheBeerWench, TS_Elliott, and of course Debbie, Barry and I will be there. You will be able to watch the event on my ustream page, complete with a chat room, or on the front page of Twitter Taste Live's website. Unlike previous live streaming events, I won't be waiting for fellow tasters to catch up with the wines, thus there will be less "dead air" time, and a more lively event.
This is certainly the first of many such wine, or wine and food pairing events. Be sure to follow me on twitter for more information on future events. And as always, you can leave a comment below or email me at matt.mmwine (at) gmail.com and I'll get back to you as quickly as possible.
Viva Italia…