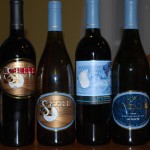 If you missed the event, Thursday October 23rd was the 4th official Twitter Taste Live wine tasting event. It was organized by Craig from Bin Ends Wine, who finds a way to bring wine and twitter together each month. Twitter users (Twitterers?) will obtain the wines, and taste them together. We then tweet our tasting notes using a search tag #TTL.  That tag allows you to use twitter search and find the wine tasting tweets (and some other #TTL tweets) to see what the results were.  I've captured all of the #TTL tweets from this event here, and Craig puts them on the Twitter Taste Live home page! When using the link for the tweets, I start at the oldest tweet, so click "Newer" to see the night progress.
This Twitter Taste Live featured 6 wines from Steele Wines, and owner/wine maker Jed Steele was at the Bin Ends Wine store. He was answering questions that the participants had, and they're captured in the #TTL search results. While most people were tweeting their results, Randy from >Wine Biz Radio was doing his tasting from the Kaz Winery tasting room, and I was streaming live via my Ustream channel. I did not record the streaming, but about 26 people were in the Ustream chat and we had a blast.  I'll be doing more ustream video tastings, including November 15th at 6pm EST. I assure you the video was a LOT more fun than the text here, but give it a read!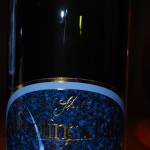 The first wine we tasted was the Shooting Star Aligote. This white wine retails for about $13.  It had a bouquet of pear, and was quite pleasant. The palate was quite fruity, even semi sweet. There was a little fizz, and was described as spritzy. There was some granny smith apple on the palate, and it is definitely a food wine. Think summer picnic. A few people think it would stand up nicely to oysters. I had said that the sweetness and fizz would be nice for people trying to transition from sweet white zinfandel to a more serious, structured wine.
Notes from Jed Steele during the tasting let us know the grapes are from vineyard in Yakima Valley. 3 acre vineyard, and they buy 90% of the grapes. Vineyard was planted experimentally. One of the only vineyard with Aligote in all of Washington. Near town of Sunnyside. Grown on south slope of vineyard. Aligote is planted quite a bit in eastern Europe, as well as a bit remaining in Burgundy.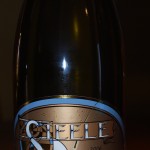 The next wine we reviewed was the Steele Pinot Blanc, a $14 white wine. I found floral notes on the bouquet and it was again quite an inviting nose. It had a palate of pears, with a subtle oak influence. It was 100% malolactic fermentation, giving it that smooth, buttery feel in the mouth. It paired nicely with all of the cheeses I had that evening, and I would have it as an opener for a party. Apparently, it did not pair well with the cheeses that Liza had during her tasting.  Jed said it was aged in barrels of 10-15% new oak. Aged on lees for 6 months. bloviatrix thought the "Pinot blanc tres deliciouse, floral nose, medium body."
We moved on to the Chardonnay, retailing for about $17, which for some reason I don't have a photo of. The packaging was similar to the Pinot Blanc, however. I found tree fruits, pear mostly, on the nose. There was definitely that spicy note from the oak, but it was not overwhelming. While it was not very buttery, there was definitely that toasty finish.  I thought it would go well with shellfish, and did indeed go well with the cheeses and Italian salami I had as appetizers. While it wasn't my favorite of the tasting, I wouldn't mind serving it.  Notes from Jed on the wine were that the grapes for the Chardonnay weresourced from 7 vineyards from santa barbara to carneros to mendicin. It's aged in 25-30% new french oak 100% malolactic fermentation, as was the Pinot Blanc.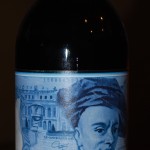 We moved on to a wine I was quite interested in tasting. First of all, I found the label quite intriguing, which is mentioned below.  It was the Shooting Star Blue Franc, which is with  Blaufränkisch grapes, and is usually called Lemberger in WA as Doug from Able Grape mentioned.  I appreciated this tweet from Doug as well, ablegrape: for your inner wine geek, here's info about Blaufränkisch (Lemberger) : http://tinyurl.com/5uu6sa.  I had not had Blaufränkisch and was excited to mark it down as one of my Wine Century Club selections.
The color was a dark, inky purple. The nose was plum, with notes of cherry and spice, mostly black pepper, on the nose. While it was a juicy wine, with dark fruit palate such as plum, and it had a lot of pepper and demanded food. It stood up fine the next day, and had very similar tasting notes. There were a lot of tannins in this wine, and the pate and cheese really helped bring the flavors out. None of us decanted these wines, and I believe the Steele Shooting Star Blue Franc needed it.  I ran it through an aerator, which allowed the bouquet to open up nicely, showing a lot more of the fruit on the nose. I think Liza's tweet was the absolute best of the night however, BrixChick_Liza: "Aged gouda transformed Shooting Star Red …classic food slutty wine…I love it!"
Jed's notes were Blue Franc is an Austrian variety. Grapes are sourced in WA, it's the one red they make with VERY little oak used. Fair amount of of this grape grown in WA because it's winter hardy. On the label of Blue Franc is Dave Ostberg Steele's longest termed employee.. 15 years!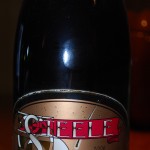 Next up was the delightful Steele Wines Pinot Noir Carneros, which retails for about $18 at Bin Ends Wine. It has a great nose, with red fruits all over the place. There was something really dark on the nose, and I want to say it was chocolate, but it could be leather. I know, polar opposite. It was quite nice, regardless. The palate was absolutely elegant, being quite fruit forward but having a nice smoke component to it. It was well balanced, and really a nice drinking wine. I wanted a grilled steak, or a pot roast, or a prime rib to put with this wine. It went nicely with the pate, cheese, and Italian sausage, however. And as my cigar smoking friends always ask, this was a GREAT wine to pair with a cigar. I lit up a CAO Sopranos, and it was AWESOME.  Jed added a few notes as well, mentioning that Steele used primarily Pommard clone and Martini clone grapes, Martini Clone is an old CA clone discovered by Louis Martini.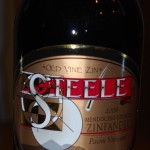 The finale was Steele Wines Old Vines Zinfandel, Pacini Ranch. The bouquet of the zin was VERY sexy, like winter holiday candles and fruit. Others said it was big and spicy and Lorzandra said "Zinfandel burns my nose! but I like it!" It had a bit more fruit than I had expected, but there was nice spice to balance it out. It was the favorite wine for many people on the twitter tasting, though Robin preferred the Pinot Noir. I wish I had better tasting notes, but by the end of the night, I was a bit .. happy .. and drinking rather than writing. I did quite enjoy the Zin, and would happily pick it up in the store. It held up the 2nd day nicely, was QUITE spicy, dry on the palate, with a huge, long finish. Jed added his notes as well, saying the Zin comes from the Pacini vineyard, planted in 1940, it is a field blend from 28 acres, 25acre Zin, 2 Petite Sirah, 1 Carignan.
Everyone had a great time. The chat room was bustling with activity, as was twitter. We will be doing a LOT of other twitter taste live events. There are 3 planned events in November that I am hoping to participate in over the next week and a half. I hope you will join us too.
The first event is Saturday November 15th, starting at 6pm EST. Wine bloggers from around the world are going to select wines of their choice, and taste them. There are a LOT of wines in the lineup, and it'll be a long event.  I have decided to taste 4 Zinfandels that I purchased in the grocery store. I did this in hopes they'll be readily available, and a lot of you will join me in the ustream chat and on twitter.
The second event is Thursday, November 20th. It starts at 8pm EST, and is an interesting concept. Dr Vino offered a "Drink Local" theme, and I like it. Sadly, local wines in Florida are all sweet and not my tasting. I will likely participate, but on a small level.
The third event, THAT IS THE KILLER! You HAVE to sign up for this wine tasting event. A number of great people have banded together to do a wine event for charity. I'm ordering the wines fromHumanitas Wines, and will be ustreaming my tasting with everyone in chat and on twitter on Friday, November 21st, 8pm EST. I really hope you get the wines, and join us! If you have questions, feel free to shoot me an email at matt.mmwine at gmail.com !
Thanks for reading this wine blog post! If you made it here, you deserve a glass of wine. *cheers*