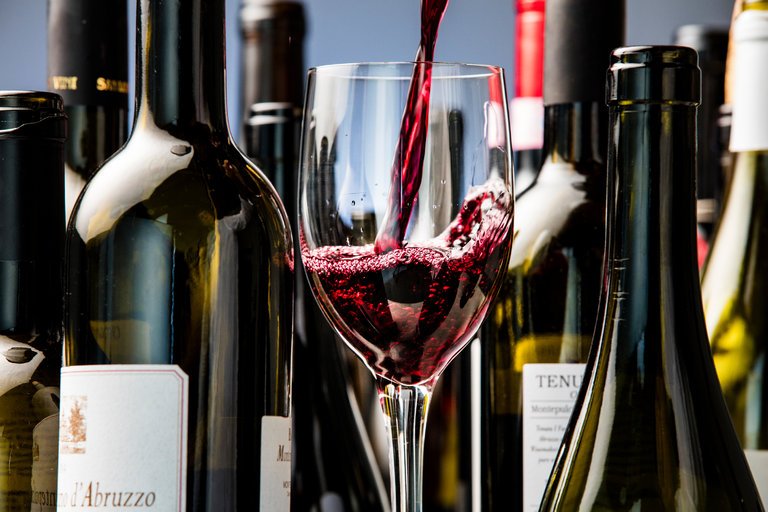 Wine of the evening – Bosco '02 Montepulciano d'Abruzzo on TwitPic
A Good Time With Wine Bosco Montepulciano d'Abruzzo
Tonight, we went to Italy for dinner. While we didn't actually FLY there, we did have a fantastic lazagne, some garlic bread, and of course, a nice Italian red wine to compliment the meal. I did not take a lot of time picking tonight's wine out, and went with something that was inexpensive ($10) and being demoed in the store.
I selected a Montepulciano d'Abruzzo from Ca'del Bosco, their 2003 vintage. Their wines are aged in oak 12 months, and then bottle stored for 3 years before release. Although not to be confused with a Vino Nobile Di Montepulciano, Italy's first DOCG, it seems to adhere to the Italian law which requires such aging.
I did not allow the wine to breathe much before I served it. That was a mistake I made due to bad timing. And, while I have the aerator, I did not use it. That was the second mistake! Out of the bottle this wine is all about oak, and smoke. My first thought was there was probably some fruit to make the wine, but they cut it with Liquid Smoke to flavor it. However, the wine did sit about 20-30 minutes in the decanter before we served the meal, and that opened it up a little. The fruit on the nose came through, and the woody characteristics toned down a bit.
The wine paired nicely enough with the pasta. The meats, sauce and cheese blended well and really harmonized with the flavors of the wine. This wine, and many Italian reds I've had, is much better when paired with food, in my opinion. The Bosco Montepulciano drank very nicely with dinner, but when I had a glass on it's own, it felt a little naked.
The video review was done after dinner, and the wine was open for quite some time. I don't know if I'd immediately pic this wine again. I did also pick up a $14 Chianti Riserva from Bellini which I could have served. Perhaps I'll have that with left overs for lunch tomorrow!! Then I can compare the two, though I'm sure they're going to be quite different, and we'll see what we think in the price range.
Oh, and as both this Montepulciano link as well as the link above mentions, Montepulciano is the grape varietal that will be checked off for this wine as I move towards the Wine Century Club. I was reading how it can be mixed with up to 10% Sangiovese right before I made that comment, and clearly had brain drain!
Take a moment, if you would, to comment below. Let me know which reds you've been enjoying lately. Any italian reds you'd prefer me to review next time? Or perhaps a white? What's in arms reach of you right now, and what do you think of it, wine wise, of course!