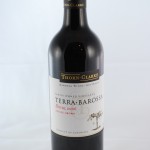 I am so glad you stopped by to see my review of Thorn-Clarke's Terra Barossa 2006 Shiraz. It's been an interesting video to shoot, complete with technical glitches, multiple tastings, and some fun discoveries. That is what I love about wine, not only are there differences from grape to grape, but within the same grape varietal there are differences, and further within the same bottle there are differences depending on the situation.  This interesting red from Australia sure brings that point home.
The first time I shot the video review for this wine, I had let it sit open, breathing, for about 40 minutes. I had remarked that while there was some fruit on the palate, as well as on the nose, and there were tones of spice/pepper that were just overwhelming. The second time I shot the video review, I had a piece of cheddar cheese and it changed the palate of this wine tremendously. It brought out the fruit, made it very enjoyable, and really muted the spice/oak aging at the finish that previously were prominent.
Here I will take the time to say that wine is not necessarily meant to be drank alone. In many cases, especially "old world" European wines, they are meant to be paired with food. The harmony between the food and the wine makes for a wonderful taste sensation.  Whether it's a simple cheese plate, or a complete meal, try wines alone as well as with food, to see how your experience changes.
So, third times the charm, right? Well, yes, it was.  I had another piece of cheese because frankly, I wanted to enjoy my 2nd glass of the wine.  I did the video below and really think the wine is a nice value.  I won't say it's THE BEST under $15 Shiraz out there, because opinions are like armpits, everyone has one and they often stink.  I will say that for $13, to give this wine a shot wouldn't break your bank or your heart. I would allow it to breathe for 40-60 minutes. This allows oxygen to interact with the wine, and "opens it" in terms of bouquet as well as palate (scent and flavor).
I will take the time to say this wine is definitely going to be marked off as a Shiraz I've had towards my Wine Century Club membership. I had some Zinfandel, Merlot, and Cabernet Sauvignon this week.  However, I've committed to video reviewing each of the 100 varietals I have to earn my membership, and since I did not video review those wines, they do not count!
If you are red adverse, prefer fruity new world wines, or hate the feelings of tannins (that dry, almost puckery feel in your mouth), you won't be nuts about this wine. I happen to be a fan of new and old world wines, fruit bombs and dusty dry wines, so I'm happily sipping on my 3rd glass writing this. I will again reiterate that this shiraz is not indicative of all shiraz!  Quite frankly, the Shotfire Shiraz from Thorn-Clarke is markedly different from this one. So, if you take my "advice" and buy this wine, then hate it, PLEASE dont let that be the last shiraz you try. I would also try the Shotfire, the Jip Jip Rocks, and another 3 or 4 before I close the book on the great grape!
What I would like to know is have you had this wine, and if so, what did you think?  Do you have a shiraz you adore in a similar price range? What is it, so the other readers of my blog can give it a try? And if you hate wine, why not tell me why, and lets see if I can find something you like!  Leave a comment, please!