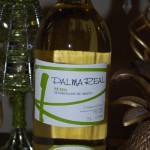 I have been tossing around the idea of qualifying for The Wine Century Club for some time now.  The first time I had heard of it was when Kathleen Lisson said she was having dinner with the Wine Century Club back in April. For someone who I enjoyed and respected on twitter to feel it was such an honor, I knew I wanted to be able to say I was a member of that club. I love her blog as well, because pairing wine and food is important to me, and I learn so much from her. So, the seed was planted, now I put it into action.
I've actually been working on it, silently, since that day. I can rattle off about 15-20 varietals I've had, and blogged about, from Albarino to Zinfandel, and a few in between.  However, I didn't track them, or document them, in a good, accountant-like way.  Therefore, I decided yesterday to start anew.  I downloaded the spreadsheet from Wine Century Club (From here on in called WCC) site, and, as Jackie Gleason used to say, Away we go.
1st wine for Century Club, Palma Real's Rueda Verdejo from Spain on 12seconds.tv
That was my teaser, and I hoped to incite a riot of conversation about the wine. From there, I had dinner, with the wine, and then, did a short video review, which is below.  The wine that I decided to start my path to the WCC with was Palma Real Rueda Verdejo.  Rueda (Roo-AY-thah) is in the north west part of Spain, near Portugal. The area is known for it's high quality whites made from Verdejo, though other varietals like Macabeo (Viura) and Palomino are used.  The Palma Real is 50% Verdejo and 50% Viura, thus it doesnt qualify as a Rueda Superior wine, which requires a minimum of 60% Verdejo.
The wine is unoaked, aged in steel barrels for a crisp palate. The bouquet is a grassy, mineral nose, with some fruit trying to peek through. On the palate the crisp flavor of green grassy and minerals come through again, with some tart apple on the finish. Palma Real is an interesting wine that for $11, I wouldn't mind having again.  It is probably going to pair well with certain foods, rather than being a straight sipper, and I mention which foods I'd have it with in the video below!
I'd appreciate you taking a second to leave a comment. Working on your own Century Club membership? Have you had a Verdejo from Rueda before? Tell me about it? Or just raise a glass and say CHEERS!
Also, do take a moment to Subscribe to my Feed.  You can keep up with me easier that way!