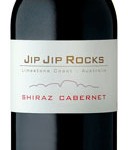 Hi there, and thanks for stopping by. I've decided to take all of the wine related content from my other blog, and post it in a place it belongs. I'll start with this post, which is new, and slowly migrate the older ones here as well.
Today I'm showcasing a video review of Jip Jip Rocks, and their outstanding Australian Shiraz/Cabernet blend. Produced by the Bryson family, it comes from what I understand to be one of the three remaining privately owned vineyards in the area, as the rest are owned by big producers. The is rated a 90 point Wine Advocate wine, and I can see why.
We love this wine! We had it with pot roast that evening, and it complimented the meal very nicely. I'd love to have this with a well seasoned steak on the grill! It was also very pleasant just to sip on. If you've had Jip Jip Rocks Shiraz/Cabernet blend, let me know what you've thought of it. If you haven't let me know what you've tasted recently.