Typically when I think of Rose, I think of White Zinfandel. I think of the cheap, sweet wine I used to try to convince the girls to swill when I was younger. I also think of several great friends who prefer sweeter, fruiter wines, and aren't interested in most of the other types of wine available. I also remember Robin's comment of "I used to drink White Zin before I knew what wine was." However, I've recently changed my paradigm related to Rose. I am not the only person who's taking a second glance at Rose wines. Even Dr. Debs @ Good Wine Under $20 has given this notoriously low value high sugar unrefined wine "varietal" a second glance in this blog post.
I make a pilgrimage to Total Wine & Spirits for their tastings almost every week for the past two months. This has allowed me to try wines I normally wouldn't consider, and expand my palate as per the guru Gary Vaynerchuck. One such adventure brought me face to face with a ferocious lio…sorry, just an homage to Steve Irwin there. Anyway, back in April I sampled a nice Rose from Domaine de Saint-Antoine that I really enjoyed. Since then, I've been on the lookout for more interesting Rose wines to try. Luckily, Total Wine does a pretty good job of in-store marketing, and had some interesting wines on an entrance kiosk a few weeks back where I picked up a bottle of Mulderbosch Cabernet Sauvignon Rose for a mere $12.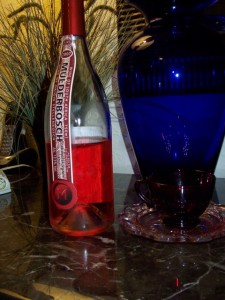 The bottle is similar to their sauvignon blanc, with the vineyard name down the front and a small label on the back. I tried to get a photo that showed the strawberry red color of the wine which was very nice.
I chilled the wine to about 49 degrees. Some say serve it closer to 52-55 degrees, similar to a red, but I prefer mine more like a white. I did let it sit open for about 10 minutes before pouring, but I did not decant it. It may benefit from a longer breathe, or from decanting, and I'll have to try that for my next bottle.
The nose is very fruit forward. A hearty sniff invoked pomegranate mixed with some nice citrus. The nose was not overwhelming or powerful though, and again perhaps allowing it to open some would change that. The Winery Direct card says the nose should be grapefruit, strawberry and guava framed with a hint of spice. I didn't sense much guava, but I can certainly pick up a little grapefruit (citrus). I don't think pomegranate is very similar to strawberries, but close enough for me. However, I always try to sniff and taste without influence, and you should too. If you try this wine, do your level best to 'forget' about my review when you do, then come back and share your thoughts.
While this is by no means a dry wine, it's not "juicy" or sweet. The description says slightly dry and medium bodied, but I find it on the lighter side of medium. It is very clean and crisp and a pleasure to drink. It can surely be sipped leasurely on the back porch during a warm summer afternoon. It's got great fruit that isn't overwhelmed with sweetness. The strawberry/pomegranate is certainly notable on the palate and quite enjoyable. It's not jammy or "Jolly Rancher" sweet at all. It's crisp and clean.
The wine has a nice mouth feel. There's nothing other than soft and silky to this Rose. There's a tiny bit of acidity on the finish. The finish is definitely lingering as the fruity taste bounces around your mouth for a minute or two at least.
While I don't feel up to rate this wine with numbers, it's certainly on the list of wines to serve this summer to friends. We had this with a roasted chicken, and it was quite complimentary. I would like to try it with some other foods, such as a cheese plate or perhaps a nice salad. Why don't you do that, and comment on your findings.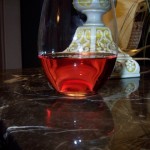 Cheers!