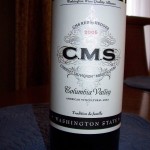 It's been too long. Not since I've had wine, but since I wrote and shared about it. I have wine JUST about every night. Often times I am so wrapped up in enjoying it, that I forget to write down my notes. I decided not to do that today.
After a fabulous day at the beach, SANS BEERS, we came home to relax. After a quick nap, I decided to take The J to see Speed Racer. I had *NO* desire, but I took him anyway. Well, after less than an hour he decided he was scared and wanted to go. We came home and Robin knew how to make it all better. Robin had half a glass of the red from last night left over, and she wanted some more to sip on before dinner. CMS got the call up. It was time for The Show. She laid out some Brie and french bread, and I cracked a bottle of CMS Red. The J didn't partake, but I did make a J-Tini out of Sprite and "Cherry Syrup".
As an aside, this is a "LONG" review, but at the end I discuss something pretty important about Red Wine and Summer, so please, read it.
We have had this wine before. It was reviewed in Episode 426 of @GaryVee's Thunder Show, from The Wine Library. I had seen bottle this in our local Publix supermarket, and figured based on his review, it was a nice "daily" wine.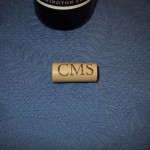 Opening this wine is semi unceremonious. While it's a cork, not a screw top, it's a synthetic cork. At least they tried to "charm" it up by printing their logo on the cork. There is little "pop" when the plastic pulls from the bottle. And while I used a mechanical "Rabbit" opener, it's a tough one to pull.
Speaking of the logo, CMS isn't something random, it's got meaning. CMS stands for Cabernet Sauvignon, Merlot and Syrah. Their white CMS is another blend that I'll have to review later. The blend brings together the favorable characteristics of each grape, making a very nice drinking wine.
We didn't decant this, though it could probably benefit from 30-60 minutes of breathing. Out of the bottle it had a nice, interesting nose. I picked up on curreats, as well as nice black fruit like blackberry. There wasn't any black cherry, but maybe with some decanting it would open up a bit. I could smell a bit of alcohol "heat" but that could have been the spice coming through.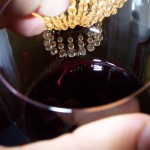 The color is a dark red. It did not photograph well, but perhaps that was because I dont have a lot of light in my home. The first photo was with my kitchen Chandelier, the second photo was taken WHILE SWIRLING, against the white marble in my … bathroom. While I don't think it was an "inky" or "Purple" color, it was really a thick, dark red. A lot of "people" talk about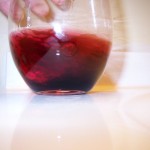 "legs" of a wine, when they swirl their reds in the glass and watch the drip. I don't know what this measures, but perhaps this wine would be considered having nice legs. I prefer the legs of a beautiful woman, myself.
Anyway, let's get to the taste. Or, as Gary Vaynerchuck would say, The Palate. As I said, this wasn't decanted so perhaps it would change a bit from being oxidized and open. This wine was not overly fruit forward. I would characterize it more earthy than fruity. The fruit was present, but not prominent. I've got some other very awesome fruity wines to discuss later. The CMS was a little dry BUT still juicy, if that makes sense. The mid palate, or the taste you get after it's sat for a few seconds, was definitely earthy. It had a bit of spice, mostly a white pepper, that was very nice. It wasn't overly peppery, but it certainly made for a pleasnt experience.
The mouth feel of the wine is not pure silk, and perhaps there's a bit of "grainy" or granularity that shows up. The finish is pleasant, and while not long, the earthy taste sticks around for a wee bit. I hate using "earthy" to describe this wine, because I typically reserve that for a leathery, dirt laden, musky "earthy" taste. There was certainly plenty of fruit, and this was a mellow, easy drinking wine.
This wine paired nicely with some Brie on french bread. It also went nice just sipping it quietly watching The Little Rascals with The J. I would definitely put this wine with a nice, medium rare steak, any day. It also could hold up to some stronger cheeses, whether they are Blue Stilton or Wisconsin Cheddar. For the price, and the availability, I would, GIVE IT A WHIRL. You really wont lose much if you dont like it. You'd gain a LOT if you do.
I will leave you with this last tidbit of information. Red wine is supposed to be served at room temperature. That is, of course, based on ROOM TEMPERATURE IN FRANCE! In Bordeaux in the summer the average temperature is barely 65 degrees F. So there is nothing wrong with serving your red, ESPECIALLY in summer, at a cooler temp. Now, my VinTemp infrared thermometer says, right smack on it, that YOUNG REDS (4 yrs or less, maybe 6 yrs or less) should be served at 55 to 60 degrees. Please, DON'T PUT ICE IN YOUR WINE. That waters it down and makes it taste, terrible. Put it on ice for 20 minutes or so. It may be longer depending on how warm it is. A good wine thermometer costs less than $20 and is a great accessory to have. I happen to know of a great up-and-coming "Gift" company that includes a nice one with each bottle. Unfortunately, they're not doing online business yet.
Please leave comments if you found this review interesting, amusing, informative, or even ridiculous. Comments fuel my desire to write and post more.